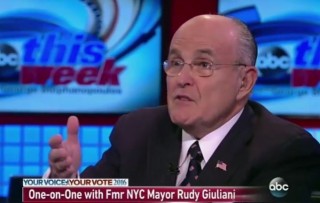 Former New York City Mayor Rudy Giuliani appeared on ABC's 'This Week' Sunday morning, on the fifteenth anniversary of the September 11 terrorist attacks. Much of his conversation with host George Stephanopolous focused on 9/11 and current terror threats, but the discussion then turned to the current presidential election.
Stephanopolous brought up Donald Trump's statement that the U.S. should have taken the oil in Iraq which is now controlled by ISIS. "That's not legal, is it?" Stephanopolous asked. "Of course it's legal, it's war" Giuliani quickly responded. "Until the war is over, anything's legal."
The relevant part of the conversation can be found at the 6-minute mark:

Now, there are such things as international law and war crimes, so the idea that "anything's legal" in war is a bit of a stretch, but for the most part, Mayor Giuliani is correct.
While Article 46 of the Hague Convention of 1907 says, "Private property cannot be confiscated," Article 55 says that public property, including "real estate, forests, and agricultural estates" may be taken by an occupying power. The occupying State (in this case, the U.S.) "must safeguard the capital of these properties," but they can take control of them. Oil fields have been included in similar regulations, which say that such resources cannot be used to harm the people living in the controlled territory.
U.S. policies of belligerent occupation, as described in a Judge Advocate General (JAG) handbook, say that the controlling force is entitled to profits from the resources, but Giuliani explained that Trump may not have even been referring to that. He clarified that the GOP's presidential nominee didn't necessarily mean that the U.S. should "take it for ourselves," but to keep the oil out of the hands of "terrorist forces." This way, he explained, the U.S. can control distribution. "That oil is what makes the Islamic State so rich," Giuliani said. "If we had secured that oil, we would not be dealing with ISIS today. They wouldn't exist."
[Image via screengrab]
This is an opinion piece. The views expressed in this article are those of just the author.