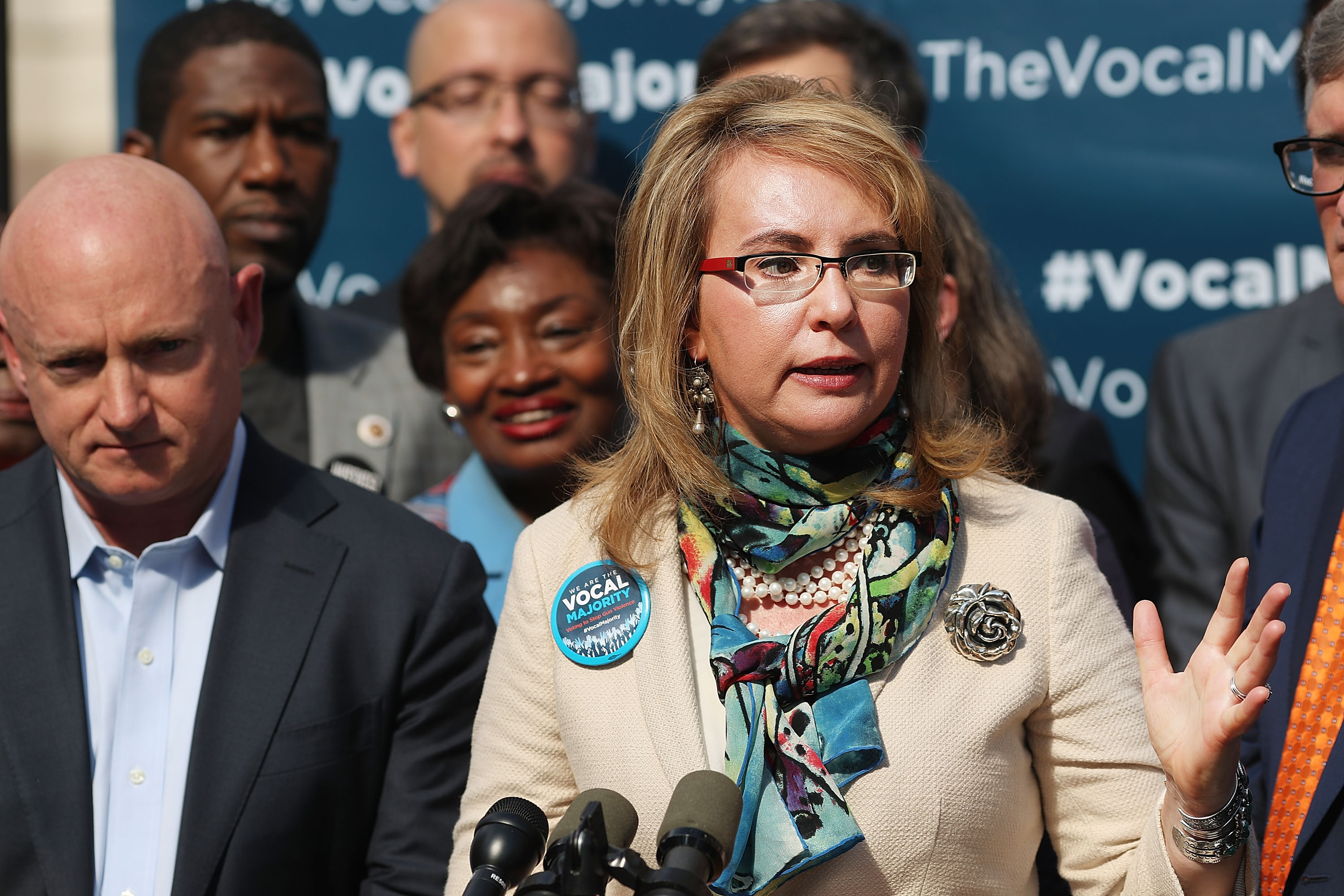 A gun control Super PAC founded by former Democratic representative Gabrielle Giffords previously went out of its way to support pro-gun and NRA-funded Republicans.
During the 2016 elections, Americans for Responsible Solutions ("ARS") supported multiple Republican Senate and Congressional candidates in tight races across the country.
One of those Republicans was incumbent Pennsylvania Senator Patrick "Pat" Toomey. Toomey is a longtime Second Amendment stalwart and has received in excess of $90,000 from the National Rifle Association ("NRA") and other pro-gun organizations over the course of his political career. In 2010, the NRA even spent $1.5 million in outside advertising to make sure Toomey was elected to the Senate. Prior to the 2016 election, Toomey had a lifetime "A" rating from the NRA–evidencing an all-but purist perspective on the Second Amendment and gun ownership.
Toomey wasn't exactly the NRA's darling in 2016, however, as he received the endorsement of Giffords' pro-gun control ARS Super PAC—solely over Toomey's sponsorship of one failed measure in the Senate which would have closed the "background check loophole" and allowed for such checks to occur at gun shows and during gun sales conducted over the internet.
(While failing to fully light the NRA's fire in 2016, Toomey did support one of the organization's more controversial wish-list items on Second Amendment activists' radar immediately before that election: concealed-carry reciprocity. In 2015, Toomey co-sponsored such legislation with Texas Senator John Cornyn–one of the NRA's ever loyal foot soldiers. This bill–S. 498–would have allowed anyone with a concealed-carry permit in one state or jurisdiction to legally carry a concealed firearm in every other state and jurisdiction in the union.)
Toomey's 2013 background check measure was floated—and voted down—in the aftermath of the Sandy Hook Elementary massacre in Newtown, Connecticut in 2012. It was never reintroduced in the Senate–something Toomey was criticized for by his Democratic opponent in the 2016 Pennsylvania Senate race.
Toomey's opponent in that race was Katie McGinty. McGinty also supported closing the background check loophole—as well as multiple additional gun control measures not supported by Toomey.
One such measure where the two differed was a ban on so-called "assault weapons"—a term which actually does not have a distinct definition. Another such measure of extreme difference between the two was a ban on high-capacity magazines.
McGinty supported both bans while Toomey opposed them both.
Multiple other differences between the two on gun control underscored the curious nature of Giffords' Toomey endorsement. As McGinty noted at the time, Toomey's backtracking on background checks struck many progressive activists as "a political calculation."
McGinty also pointed out Toomey's "A" rating from the NRA—which was eventually downgraded to a "C". McGinty's grade from the NRA? An "F". Of course, McGinty has never been funded by the pro-Second Amendment group. Progressive activists criticized Giffords' choice at the time, but those concerns were summarily ignored. Toomey ultimately bested McGinty by fewer than 90,000 votes.
In the aftermath of the Valentine's Day massacre at Marjory Stonemason Douglas High School in Parkland, Florida, Giffords' group—recently rebranded as simply "Giffords"—has been thrust into the national spotlight.
Bill Clinton retweeted Giffords this morning on the subject of gun violence and the American culture of fear. Her eponymous group is currently sucking up a great deal of the oxygen–and likely donor funds–as gun control activists make their pitches for a thorough and renewed focus on limiting firearms access in the United States.
Simultaneously, due to efforts led by the Parkland survivors—and the stunning oratory of Emma Gonzalez in particular—gun control efforts are shifting away from older, more piecemeal models of activism and politicking.
As teenagers across the country call "BS" on Congressional apathy and antipathy viz. gun violence, those political headwinds are looking toward the goal of ending the NRA as a viable political force altogether. That is, the ire of gun control activists appears likely to be directed at any and all NRA-supported politicians across the board.
Therefore, Giffords and her newly-renamed Super PAC are about to find themselves in the awkward position of fighting against some of the same politicians they helped to elect in the first place–or find themselves as irrelevant as their previous political calculations were off-base.
[image via Spencer Platt/Getty Images]
Follow Colin Kalmbacher on Twitter: @colinkalmbacher
This is an opinion piece. The views expressed in this article are those of just the author.