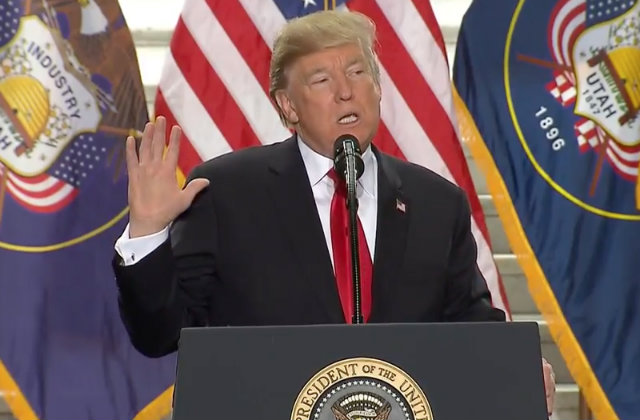 It's almost the end of December, a time when presidents traditionally hold an end-of-year press conference. It's unclear whether President Donald Trump, ever the iconoclast, will continue the tradition, but here are just a few reasons why his attorneys may be advising him not to do it.
1. The ongoing defamation lawsuit against President Trump
President Trump is currently facing a defamation lawsuit filed by Summer Zervos, a former contestant on "The Apprentice" who accused Trump of sexual assault. Zervos claims that Trump defamed her in his response to her allegations, by saying that her claim was a politically motivated fabrication. Trump's legal team on the case, led by Marc Kasowitz, argued that the case should be put on hold for the duration of Trump's presidency, but Judge Jennifer Schechter has yet to announce her decision on the matter. For now, the case is something Trump needs to worry about. If the president held a press conference, there's a decent chance that a reporter would ask him for his thoughts on this. In any situation involving a lawsuit, parties are advised not to comment publicly about them, but this case would be particularly sensitive. If Trump spoke about the case and again strongly denied the allegations against him, he'd run a risk of facing a new defamation claim.
Of course, that's not to say Trump is going to lose the case whenever it does go to trial. If Zervos' allegations are found to be fabrications, Trump would be in the clear. Alternatively, if the allegations are true but Trump's denial isn't found to be defamatory, he would also come out unscathed. Still, any comment from Trump on the case would create unnecessary headaches.
2. The Russia investigation
This is the obvious one. Speculation abounds as to whether Robert Mueller will remain as special counsel, even though Trump already said he has no plans to fire him. President Trump insists that he's done nothing wrong with regards to Russian interference with last year's election, and he originally wasn't even under investigation, but his words, both actual and alleged, have already gotten him into trouble. James Comey famously claimed that Trump asked him to stop investigating Michael Flynn, and later fired him, which led political opponents to claim that he committed obstruction of justice. After Flynn pleaded guilty to lying to the FBI and Trump tweeted that he knew about Flynn's lies back in January, it provided additional support for an obstruction case. The backlash was so bad from that one that Trump's lawyer John Dowd had to say that he's really the one who wrote it (whether or not you believe that is a different story).
Even with big issues like healthcare, immigration, and taxes playing major parts in the first year of the Trump administration, Russia has loomed large over it all. Reporters would barrage Trump with questions about the investigation if given the chance. With the president's track record, he'd be likely to get himself into more trouble if he answered them, even if it ultimately turns out that he really didn't do anything wrong.
3. The travel ban
When it comes to executive orders restricting travel from certain countries to the United States, the words of President Trump and the White House have a history of undermining his actions. On its face, an order calling for a moratorium on travel from a few countries for the sake of national security may not be ideal, but it's hardly a constitutional crisis. Taken in juxtaposition with Trump's campaign remarks about banning Muslims from the U.S., however, it suddenly appears more problematic, even if the order (and its subsequent versions) don't mention religion at all. Contradictions were a big theme when it comes to the travel ban this year, even regarding whether to even call it a travel ban (recall how then-White House Press Secretary Sean Spicer said not to call it that, despite Trump's repeated use of the phrase).
A White House spokesperson seemed to further undermine the legal defense for the ban by linking it to Muslims last month, citing it when asked if President Trump views Muslims as a threat to the country. I've long defended the legality of the travel ban and how it was never a Muslim ban, despite what the ACLU says, but even I was left scratching my head after that one.
Basically, the less Trump and the White House say about the ban, the better.
4. Questionable judicial picks
A big victory for President Trump was his appointment of Neil Gorsuch to the Supreme Court. Even many of Gorsuch's ideological opponents lauded his legal acumen and qualifications for the position. Trump's ability to select solid judicial nominees has come into question of late, however, with several being deemed "not qualified" by the American Bar Association due to reasons ranging from lack of experience to publicly expressed controversial beliefs regarding major judicial decisions. One of those nominations has since been withdrawn, and another ended up not moving forward at all. Most recently, another nominee, Matthew Spencer Petersen withdrew his own nomination after an embarrassing showing at his confirmation hearing.
Sure, taking questions about this wouldn't pose any legal problem for Trump, but he's been riding high on the Gorsuch pick all year, and I doubt he'd want to face criticism over his other choices.
With all this in mind, it's hard to imagine that President Trump will hold a press conference to close out the year. It's a shame, since the one he held back in August drew sheer delight from both his supporters and opponents.
[Image via NBC screengrab]
This is an opinion piece. The views expressed in this article are those of just the author.