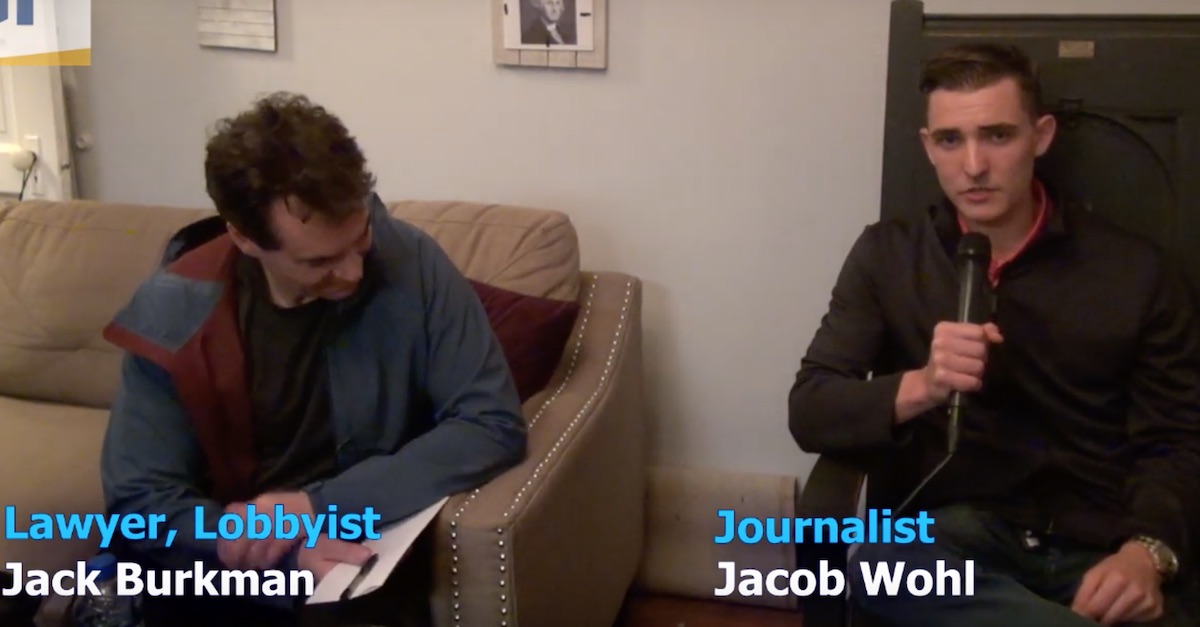 Known Seth Rich conspiracy theorist Jack Burkman and shamelessly pro-Trump, hipster coffee shop denizen Jacob Wohl, the dynamic duo  behind the sexual assault allegations against special counsel Robert Mueller, joined Gateway Pundit for an "exclusive" interview in a risible attempt to explain what the hell is going on.
Wohl, claiming to be a journalist, speedily summarized his outlook on sexual assault allegations made by women: "My default position is not to believe the women."
He described himself as the "biggest skeptic in the world of the #MeToo movement," but says the "gal who had hired our firm" (Surefire Intelligence) to, uh, investigate this claim is "credible."
"I don't care who's getting accused or who's accusing – my default position is I don't believe it until its proven, until it's corroborated," he said. "I went through the story with the accuser, the gal who had hired our firm, and I asked her many, many questions– where did it happen? When did it happen? Do you have any corroborating witnesses? And over and over again I determined her credibility to be very high, very high."
Some background: Gateway Pundit pushed this story and then took down the dirty dossier.
This resulted in some pretty widespread mockery.
Now even Gateway Pundit has seen fit to add an EDITORS NOTE (sic) explaining that the fringe website's founder, Jim Hoft, is not responsible for any of this. We're just gonna excerpt that note in all of its glory.
**EDITORS NOTE**   Jim Hoft is NOT responsible for the posting of the original story reporting the accusations against Mueller. That was authored by Jacob Wohl himself. Under most circumstances we allow our writers, based all over the world, to post their stories directly to the website. After Mr. Hoft was notified regarding some of the basis of the claims, he edited and then removed the original article(s) pending and investigation. As part of that investigation, Mr. Hoft requested one of our local DC reporters interview Jacob Wohl directly. This was done after Wohl landed in DC and what you see on this page is that interview. Meanwhile, our investigation is ongoing and we would appreciate your patience in the meantime.
Rumors started swirling early Tuesday that unknown figures were planning to make sexual assault allegations against special counsel Mueller in an effort to discredit him and the Russia investigation. Since then, Mueller's office confirmed the nature of the false allegation story and said that the matter had been referred to the FBI.
Since then, Wohl's involvement was exposed and Burkman came forward to say, yeah, he has a client who's going to expose Mueller "at high noon" on Thursday (today). He appeared in a bizarre video tease of his plans on Facebook and also blasted this out on Twitter.
"Some sad news. On Thursday, November 1, at the Rosslyn Holiday Inn at noon, we will reveal the first of Special Counsel Robert Mueller's sex assault victims," he said. I applaud the courage and dignity and grace and strength of my client."
"This isn't something I take any delight in," he claimed.
This only scratches the surface of the weirdness. Also, that accuser reveal is not going to happen.
"She gave us her story. She went point by point. She gave us time, she gave us dates. We carefully vetted that story. We wrote it into an affidavit, which she has signed. She also has a corroborating witness," Wohl said. She's also rich and is a "person of unimpeachable character," so there's no way she's lying about this, he added.
She's also not shown up for a press conference and still hasn't been identified.
Whatever.
Burkman, it should be noted, is no stranger to the last-minute conspiracy theory presser flop.
As Law&Crime's Colin Kalmbacher reported before, special counsel spokesperson Peter Carr said that this matter was referred to the FBI.
"When we learned last week of allegations that women were offered money to make false claims about the Special Counsel, we immediately referred the matter to the FBI for investigation," he said.
The Atlantic's Natasha Bertrand was one of the first journalists to confirm the attempted smear campaign after word of it started getting out.
Independent investigative journalist Scott Stedman, whose writing has appeared in The Guardian, first alerted the world to the work being done in a series of tweets during the early morning hours on Tuesday. At 1:05 a.m. he wrote, "I wasn't going to report on this, but I think my fears are coming true. Based on information that I am privy to, I believe false accusations will be spread about Mueller in order to discredit him and possibly the journalists who are preparing this story."
Bertrand identified the alleged culprit as Burkman on Tuesday, saying that he is "a conservative radio host, [who] is known for spreading conspiracy theories."
Colin Kalmbacher contributed to this report.
[Image via YouTube screengrab]
This is an opinion piece. The views expressed in this article are those of just the author.