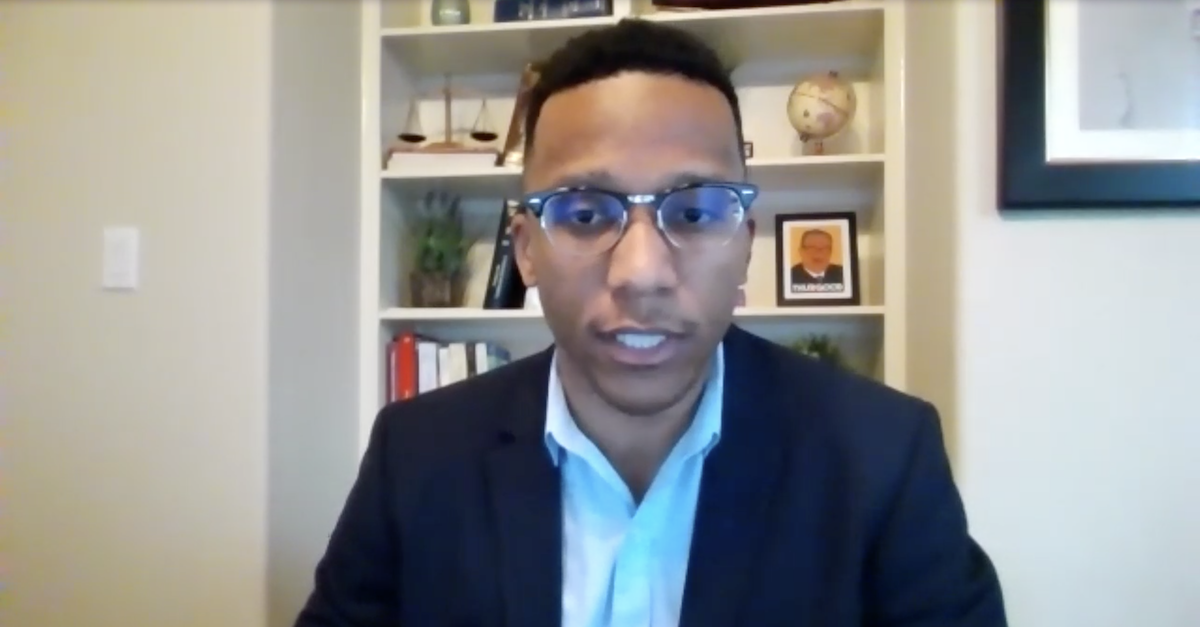 Listen to the full interview with Harris County Attorney Christian Menefee on Apple Podcast, Spotify or wherever else you get your podcasts, and subscribe!
The largest county in Texas has undergone a sea change in political leadership in recent years, and their focus—like everyone else in the state—has turned to outages that affected millions of people, killed dozens and augured numerous investigations and national attention to a once-obscure local regulator.
"Folks are overwhelmed, and there's a big element of trauma," Harris County Attorney Christian Menefee, who became the top civil lawyer there in November, noted in the latest episode of Law&Crime's podcast "Objections."
That was also the theme of a recent Houston Chronicle editorial on the blackouts—editor Raj Mankad's Sunday outlook piece "Houston has a hidden tax: It's called trauma"—interviewing members of the community on the blackouts in light of several 500-year weather events that have struck the Bayou City in less than half a decade, from the floods of 2015 and 2016 to Hurricane Harvey in 2017.
"It's something that all communities are experiencing, but lower-income, minority communities tend to experience it more and there's a level of trauma that goes with it," Menefee told Law&Crime.
With younger and more diverse elected officials, the most affected Harris County residents have more representatives attuned to what affects them.
"What's important here is, Harris County government's changing," Menefee said. "Our county judge, who is the chief executive of the county and the head of our legislative body, is a Latina, who just turned 30 a few days ago."
Menefee is referring to Judge Lina Hidalgo, who—despite her title—does not have any judicial branch role but functions as the county's chief executive.
When Law&Crime interviewed Hidalgo in October, the Democratic rising star spoke about her platform of expanding voter access, criminal justice reform, early education, and the environment. Menefee also made expanding his office's environmental law section a key part of his platform, one of the ambitions that won him the Houston Chronicle's endorsement.
For Menefee, that ambition has a long personal and professional background.
"Facilities that emit toxic chemicals, concrete batching plants facilities that are just harmful to the environment, typically are in the areas of folks who look a certain way and have a certain income, and one of the things that I've been preaching from the mountaintops about, is your zip code should not determine whether your air is pure and your water is clean," Menefee said on the podcast.
The first Black attorney in his office, Menefee spoke abut his upbringing in a military family in working class communities.
"Since there is no zoning in Houston, it's actually quite common for working class communities to be near facilities that store and/or emit hazardous chemicals," Menefee told Law&Crime, describing his military family moving around a lot near several facilities that had releases of lead, mercury compounds, chromium, and styrene.
Earlier this month, Menefee reaped dividends on his efforts objecting to Valero Refining-Texas, L.P.'s permit that would have allowed the refinery to spew hydrogen cyanide in a low-income community. Pressure from his office sparked an agreement for 80-percent reductions in the dangerous chemical, a regime of emissions tests, transparency over the company's operations and money for the communities affected.
"I think I bring a helpful perspective in that a lot of these law firms, many of the cases we did, I have represented industry before," Menefee said. "I know what to look for. I know the lingo. I know when we're being sold to a can of goods. I know when it's time to, to when there's a pressure point and it's time to push on it. And I know when we're just kind of chasing the wind."
"So I'm bringing that perspective to this, but also understanding that as a young African-American man who grew up in a working-class family, I bring the perspective of having been one of the people in these neighborhoods where there was a facility that was emitting chemicals," he continued.
In the wake of the outages, Menefee has been closely watching a Texas Supreme Court battle involving a regulator on every Texan's lips but previously little-known outside the state: the Electric Reliability Council of Texas, also known as ERCOT.
Defending its conduct, the company told Law&Crime: "Because approximately 46% of privately-owned generation tripped offline this past Monday morning, we are confident that our grid operators made the right choice to avoid a statewide blackout."
The Texas Supreme Court is currently deciding whether ERCOT has sovereign immunity, an issue that will determine whether it can be sued for any reason. The case involves a company named Panda Power, which claims that it invested more than $2 billion on power plants in Texas based on allegedly fraudulent market reports that ERCOT published.
In the wake of the blackout, the long-anticipated ruling has major consequences. One family already has sued ERCOT for $100 million in the wake of the outages, in a lawsuit stating that their 11-year-old son died in the blackouts.
"The stakes are huge and I think that everyone appreciates that even outside of that lawsuit," Menefee said, rattling off various state and local investigations that have been announced.
Two days after the interview, Menefee formally announced his civil investigation into ERCOT, the Public Utility Commision (PUC), and market participants. Five board members, including the chair, announced plans to resign, effective at the culmination of Wednesday morning's meeting, citing public outrage about their out-of-state residency.
(Screenshot from Zoom interview with Christian Menefee)
Have a tip we should know? [email protected]
Adam Klasfeld - Managing Editor