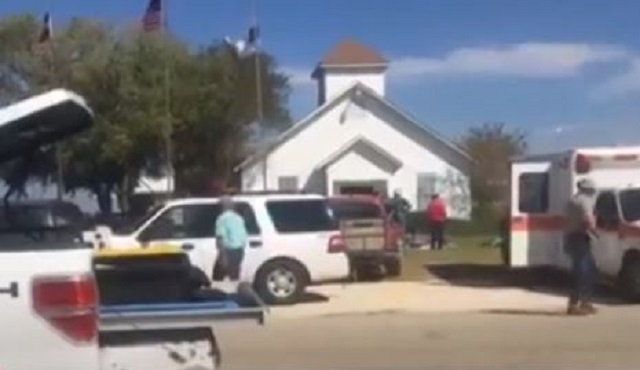 No fewer than three families plan to file lawsuits against the federal government in the wake of the Sutherland Springs Massacre in early November.
The complaints allege that the U.S. Air Force is responsible for the death of their family members based on a theory of negligence.
The Johnson, Ramsey and Holcombe families collectively lost one dozen loved ones in the mass shooting. They've since retained legal counsel and are threatening to file the aforementioned claims if they feel their needs are not adequately addressed by the Trump administration.
According to the Dallas Morning News, several additional claims–both from family members of the deceased and those still living but injured–are planned as well.
Ronald Ramsey lost both his mother and stepfather to Devin P. Kelley's rampage. He said:
The government is here to protect, and, in this case, they aided this man. They have skin in the game. They have blood on their hands.
Immediately after the November 5 massacre at the First Baptist Church in Sutherland Springs, the Air Force admitted their culpability in failing to report Kelley's past history of domestic violence–including convictions for such–to the Federal Bureau of Investigation's national database.
Had the Air Force properly followed such procedures, Kelley would not have legally been able to purchase a firearm.
Instead, Kelley slipped through the cracks of the system and easily obtained the Ruger AR-556 rifle in April 2016 from an Academy Sports & Outdoors store in San Antonio. He then used that weapon to slaughter 26 people and wound in excess of 20 more.
The preliminary results of a review concluded that the Air Force's reporting failure was not an isolated incident. Rather, that review identified dozens of "similar reporting lapses" akin to Kelley's case. A 2014 review by the Department of Defense attributed such lapses to "program administrators departing before replacements were trained on their responsibilities."
Another report issued by the Department of Defense's Office of Inspector General showed that 28 percent of convictions dated June 2010-October 2012 were not reported by the armed forces to the FBI. Federal law requires the U.S. military to report such crimes to the FBI's National Instant Criminal Background Check System but penalties for non-compliance are essentially non-existent.
The families of Sutherland Spring victims are wondering why the U.S. military has been so derelict in such duties and why there's no real mechanism to punish such lapses. Texas Senator John Cornyn has promised to file legislation that creates an effective punishment regime for agencies that fail to abide by the law, but this has not happened yet and likely would not retroactively apply to the Sutherland Springs massacre.
The Johnson family, who lost parents Dennis Johnson and Sara Johnson, plans on filing two wrongful death claims against the Air Force–along with six survivor claims for each child the deceased couple left behind.
[image via screengrab]
Follow Colin Kalmbacher on Twitter: @colinkalmbacher
Have a tip we should know? [email protected]