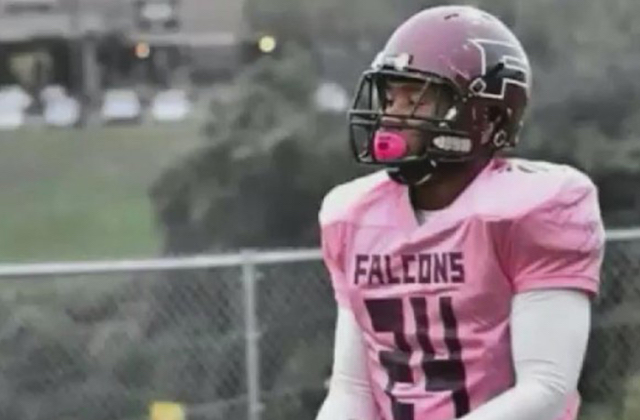 A jury has been seated to hear the Tennessee murder trial involving the death of fifteen-year-old standout football player Zaevion Dobson. Prosecutors say he was gunned down in a mistaken case of gang retaliation during a string of shootings in December 2015. The Law&Crime Network will carry gavel-to-gavel streaming coverage of the trial along with expert legal analysis beginning with opening statements in the morning.
Law&Crime Network Will Carry Gavel to Gavel Live Coverage of This Trial
Three men face charges for Dobson's death. Richard Williams III, Christopher Bassett, Jr., and Kipling Deshawn Colbert, Jr., each of whom were 21 when arrested, each face first-degree murder charges regarding Dobson's death. They also each face attempted first-degree murder charges for opening fire on a group of people who were with Dobson on a back porch. The men further face a lengthy list of various weapons-related charges.
Police say Dobson and eight friends were hanging out on the back porch of one of the friend's aunt's house. They saw a group of men walk up and stop. As the friends wondered who the men were, at least one of the men opened fire, they told the police. Dobson died while protecting Faith Gordon, 17, and Kiara Rucker, 16. Dobson's older brother, Zack, was among those who survived the shooting.
Prosecutors believe the shooters were seeking revenge for an earlier gang-related murder. One of the men believed to have been involved with the shooting was Brandon Perry, who himself was murdered in the rash of violence later that same night.
There is no evidence Dobson or his friends had gang ties, leading police and prosecutors to believe they were shot at in a case of mistaken identity. Dobson was later hailed as a hero for protecting Gordon and Rucker. Former President Barack Obama tweeted about Dobson, and Dobson's mother posthumously accepted an ESPY award named for Arthur Ashe on her son's behalf.
Zaevion Dobson died saving three friends from getting shot. He was a hero at 15. What's our excuse for not acting? https://t.co/hn98uGsjKZ

— President Obama (@POTUS44) December 20, 2015
According to reports, Bassett confessed to the police, though his attorney unsuccessfully argued that the confession should be thrown out because the confession came before police had read Basset his Miranda rights. During the confession, Basset implicated Colbert. Colbert was also implicated when police examined his text messages. Police further said Colbert confessed his involvement to a friend and matched a description of one of the shooters. Williams was arrested after running from police after a hit-and-run crash and a subsequent police chase. He was in the car with Colbert at the time, but it's unclear from reports precisely how investigators plan to implicate him in the Dobson murder.
An original pool of 137 potential jurors was called to court. The final jury of twelve includes six men and six women. One of the men is black; one of the women is black. The remaining jurors are white. The defendants are all black. Four alternates, three men and one woman, were also seated.
Have a tip we should know? [email protected]
Aaron Keller - Deputy Editor-in-Chief