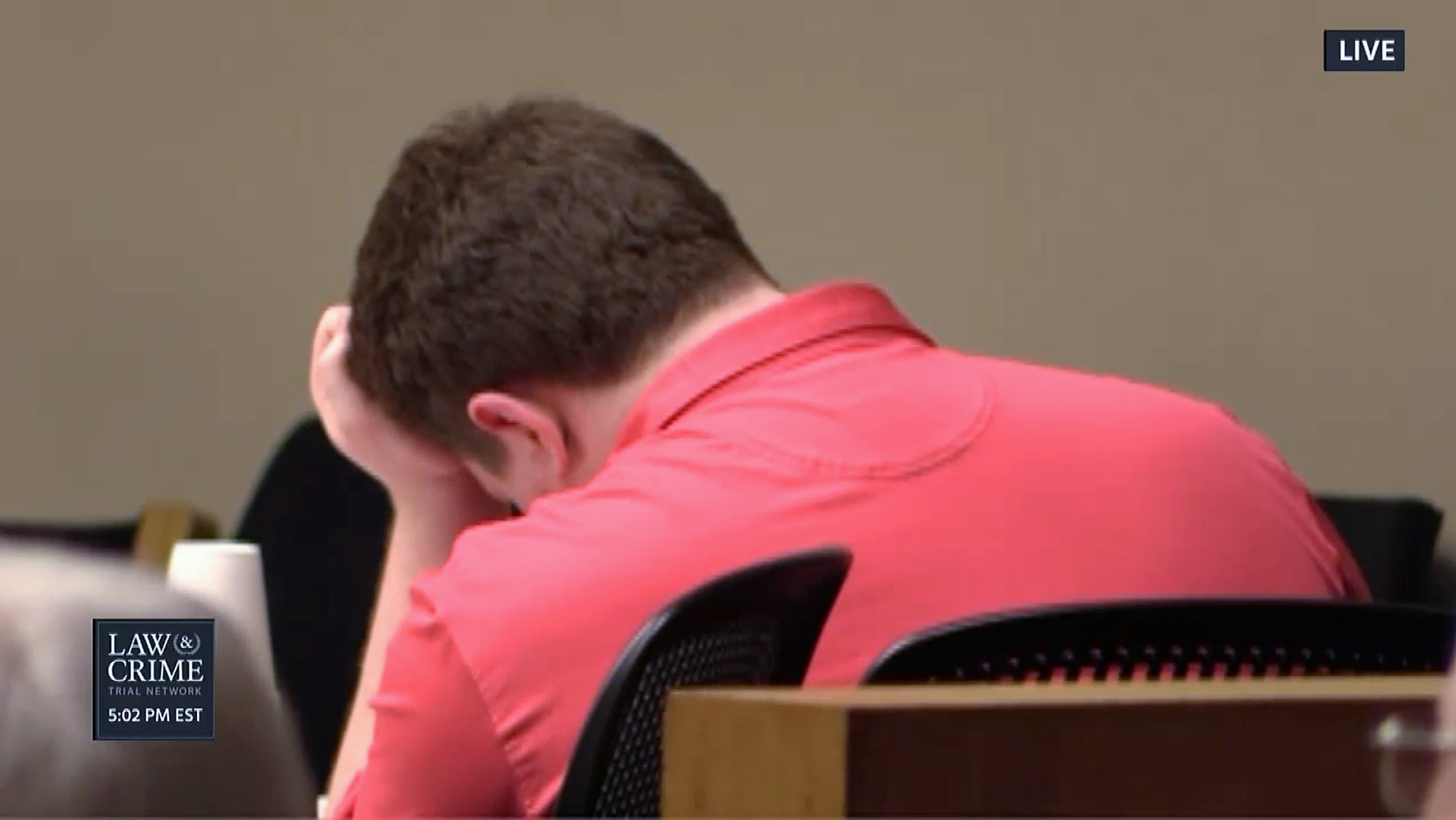 "He agrees he did it."
That's one way prosecutor Kevin Allen characterized the trial tactics of accused killer William Riley Gaul during closing arguments Tuesday morning and early afternoon. The former Division III college football player is on trial for the murder of his former girlfriend Emma Walker, who was a high school cheerleader.
Allen accused Gaul of "creeping into [the victim's] yard at three o'clock in the morning and discharging a gun into her bedroom wall while she slept." He also accused Gaul of lying to a number of people, including his friends, mother, and grandfather. He said the defendant's "deceit" and "lies" were evidence of his guilt.
"The biggest whopper of them all," Allen said, was when Gaul claimed he was crying in the parking lot of his college athletic center over his failed relationship with the victim during the time he was really at her house shooting her through her bedroom wall. Cell phone records proved Gaul was not in the lot, Allen said.
"This case is worthy of convicting him on every count," Allen said. Gaul "was possessive, he was manipulative, he was controlling, he was toxic," Allen argued.
During the trial, prosecutors said Gaul staged a series of bizarre events in an attempt to harass or stalk Walker. One included a staged kidnapping. The other involved Gaul dressing up in black and scaring people in Walker's neighborhood. The events culminated with Gaul traveling from college with a phone borrowed from a classmate to Walker's residence and shooting two rounds through perpendicular bedroom walls. The bullets were fired from different angles directly toward the bed where Gaul knew Walker would be sleeping, prosecutors argued. Later, Gaul tried to get college classmates to help him get rid of the weapon he used. Gaul had stolen the gun from his grandfather's vehicle, testimony revealed.
During closing arguments, Allen said the top charge, premeditated murder, should result in a guilty verdict. He argued that Gaul wanted Walker dead because Walker had broken up with Gaul and spoken cruelly toward Gaul in the process. He said Gaul drove twenty-five minutes from his college to Walker's house. During that time, Gaul "declined" to turn around or think things over; rather, Gaul continued ahead, Allen argued. These facts suggest premeditation, he argued. Allen said Gaul was purposefully dressed in all black and fired two precise shots into Walker's bedroom from different angles through different walls. Both shots were aimed to strike the location where Gaul knew Emma Walker's bed was situated and where she would be sleeping. Gaul was "right up on the house," Allen said, arguing that Gaul's proximity was also evidence of intent to kill. "Guns penetrate things; everybody knows that," he added. "Look at the beautiful shot placement. If you have intent to kill, that's where you shoot," Allen said.
The defense argued that Gaul staged the kidnapping, dressed in black on previous incidents, and eventually fired into the house in a twisted attempt to get Walker to talk to him or possibly to seek comfort in his arms.
"Look at all the other places he could have shot!" the prosecution countered. A bullet fired into any other location in her bedroom wall would have scared her, but not killed her.
"Emma's parents are crushed with a spirit that was like the sunshine to them," Walker said. "She was strong willed, she was sassy, she was sarcastic sometimes, but she was their light. They're blessed they got 16 years with her."
Defense attorney Wesley Stone argued that "no person in this courtroom can hear these facts and not have sympathy." Stone also admitted Gaul was a liar. Going into the case, Gaul pleaded guilty to reckless endangerment. "My client has accepted responsibility for that count," Stone said, hoping the move would spare his client from a harsher sentence.
Stone said Gaul had little experience with guns and would not have known the bullet would have penetrated the wall. He also read a love letter from Gaul to Walker, and showed a picture of the defendant and the victim together. "As crazy as it is and as bizarre as it is, he was hoping to come to her rescue," he argued. Everything Gaul did was with an intent to scare, not kill, with hopes there was a chance she would talk to him or rekindle their relationship, he concluded.
With Gaul admitting he pulled the trigger, the case comes down to a question for jurors about mental state. They need to decide whether the shooting was premeditated, intentional, reckless, or negligent.
[Image via screen capture from the Law&Crime Network.]
Have a tip we should know? [email protected]
Aaron Keller - On Air Host