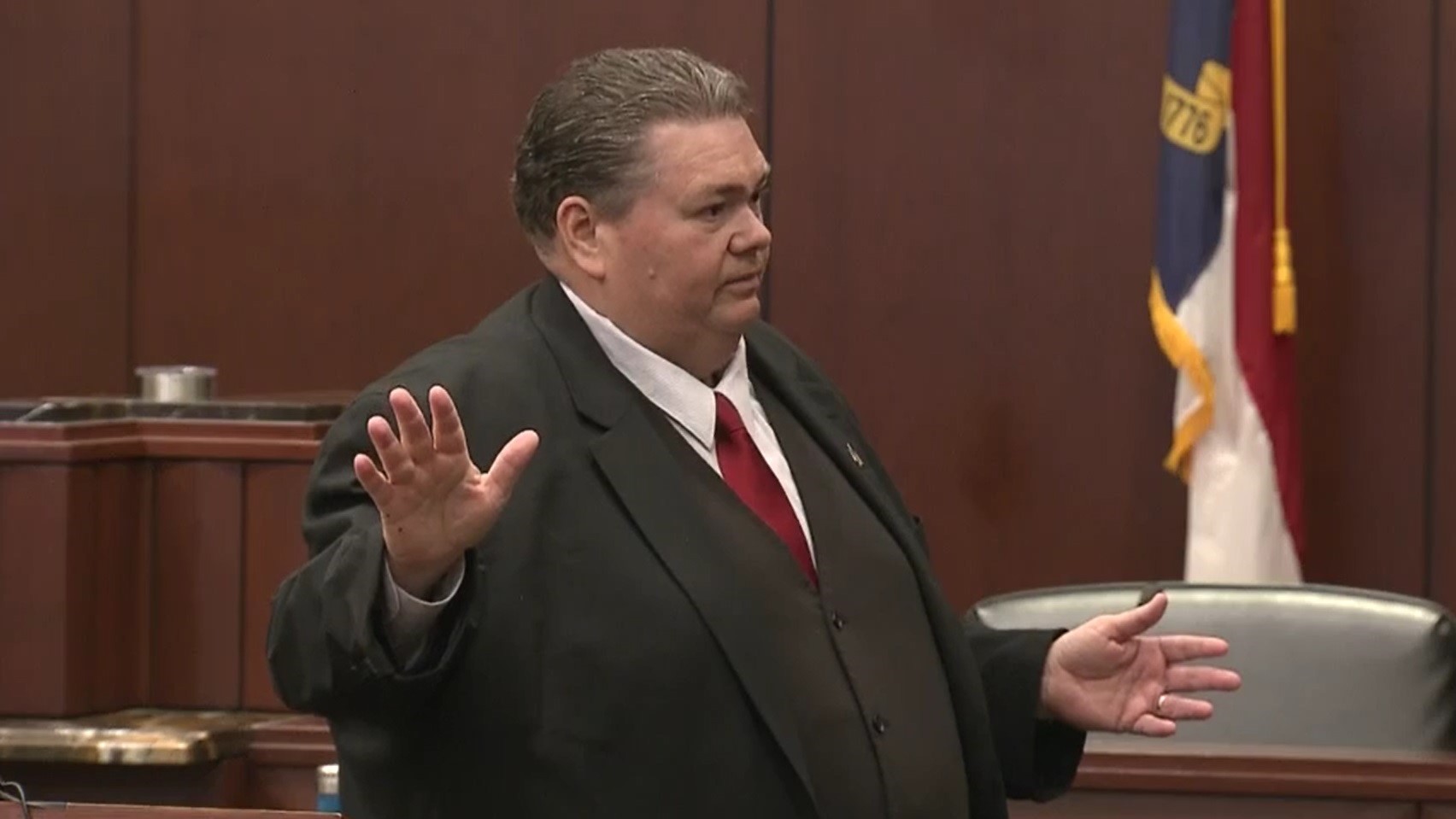 Opening statements are complete in the trial of a former North Carolina district attorney accused in a bizarre no-show employment scandal involving his wife and a wife of a neighboring prosecutor. The openings pitted two seasoned prosecutors against one another in court, except that one of them was defending himself.
Prosecutor Patrick LaTour said the case "is about public trust." Defendant Wallace Bradsher is accused of conspiring with a neighboring prosecutor to hire one another's wives. The counts he is facing include obtaining by false pretenses, conspiring to obtain by false pretenses, obstruction of justice, and failing to properly carry out his duties as an elected official. The neighboring prosecutor, Craig Blitzer, pleaded guilty to one charge has promised to testify against Bradsher, surrendered his law license, and returned his wife Cindy's salary to the state.
Bradsher, who gave an opening statement in his own defense, says the state's theory of the case is all wrong.
Bradsher was the prosecutor in Person and Caswell Counties. Blitzer was the district attorney of Rockingham County. The case is being tried in Raleigh because it involves monies which flowed from the state's Administrative Office of the Courts (AOC), which is located there.
Prosecutor LaTour said that Bradsher's wife Pam worked for him in private practice and for four years as prosecutor. LaTour said that around the 2015 election, both Bradsher and Blitzer became concerned about pay cuts. According to LaTour, Blitzer will testify that Bradsher suggested that he hire his own wife, just as Bradsher said he had done. When Blitzer tried to hire his own wife, the AOC said he couldn't, and began an investigation into both.
Bradsher was in the process of giving his own wife a 28% pay raise when the AOC started investigating, LaTour said. So, during a meeting at a pizza place, LaTour says Blitzer and Bradsher came up with a plan to hire one another's wives. The AOC wasn't happy about it, but said it was legal, according to LaTour. "This is the wife swap, where they each get a job at the other one's office," LaTour told jurors.
Cindy Blitzer, the wife of the Rockingham County district attorney, decided to go to nursing school, and only worked one case for Bradsher, LaTour said. He also said she was continuously paid while she was either at home or in school. LaTour said Blitzer will testify that he worked out a deal with Bradsher in the car on the way to a conference whereby his wife would go to school and still get paid.
Eventually, the State Bureau of Investigation (SBI) stepped in, LaTour said. Investigators found Cindy Blitzer going to nursing school during business hours, he said. He also said that Bradsher took steps to "cover up" the situation.
"The logical conclusion is that you're going to find the defenant guilty," LaTour said.
Bradsher told jurors he ran for district attorney after 20 years in successful private practice. While running his own firm, his wife Pam worked for him. Bradsher said he wanted to become a prosecutor in his home county after watching an invasion of "gangs and drugs." He said the previous prosecutor's success rate was very low; that criminals were going free; that morale in the office was low; and that people weren't working hard enough. He accused his predecessor of spending too much time "at the golf course." Bradsher said he ran on the promise of bringing his private practice mentality to the courthouse — and that included his wife and other local employees who were committed to their own community. Conviction rates skyrocketed and crimes dropped 36% under his tenure, he said.
"I was not sitting in an office as an administrator signing papers; I was in the courtroom," he said. "We did 70 jury trials during this time period and lost two . . . law enforcement and the DA's office were in sync; they were working . . . Pam was part of that."
Bradsher said he consulted with a number of authorities, including the AOC, on whether he could bring his wife from his law firm to his DA's office. The original response, Bradsher said, was this:  "I was a constitutional officer and not subject to the state personnel act." In other words, the AOC told him it was legal. He also said judges knew his wife was working for him and did not have an issue with the arrangement. "Judge after judge after judge rotated through that district . . . every six months . . . she picked my juries and worked through my trials . . . every judge that came in was introduced to Pam as my wife . . . to imply that we thought we were doing something" wrong is inaccurate, Bradsher said.
Bradsher said his wife's salary increased when his best employee became gravely ill and was partially paralyzed. He moved that employee to a receptionist position. Pam picked up some of that person's work. He said the raise was not "wine and roses," but rather a way to deal with his other employee's illness. Then, the legislature cut salaries statewide, so he demoted poor performers. That led to hard feelings. Finally, the state passed a new ethics act which complicated his ability to continue to hire his wife.
Bradsher said he continued to check with authorities on whether and how to continue, including a superior court judge who was charged with managing ethics matters. At one point, Bradsher said he could get a waiver to continue to employ his wife. The AOC said waivers didn't exist. He then said the idea of a screening plan — where his wife worked for Blitzer — became an option. It worked, he said, because a lot of the work his office was preparing was so-called "conflict work," where his office would take the cases of neighboring counties, and vice-versa, to avoid legal conflicts of interest. Bradsher said neighboring counties had to handle the prosecutions of clients of his former law firm, for instance. Plus, he said state law specifically allowed transfers of that nature.
"My flaw?  I think I can fix any problem," Bradsher said.
Bradsher then commenced a lengthy discussion of new paperless procedures in his office and of discovering that the evidence procedures in Caswell County, one of the counties under his charge, was in disarray. He fired the person responsible out of fear that defendants would go free after not being given access to all of the available evidence in their cases. That further created bad feelings against him, he said.
Bradsher said Blitzer mismanaged time sheets and that he routinely allowed staff to do schoolwork on state computers and on state time. "Craig Blitzer was very complicit in a number of crimes and had every motivation" to blame it on him, Bradsher said. Bradsher also accused the SBI of glossing over important facts, which he say vindicate him.
[Image via screen capture from WRAL-TV.]
Have a tip we should know? [email protected]
Aaron Keller - Deputy Editor-in-Chief