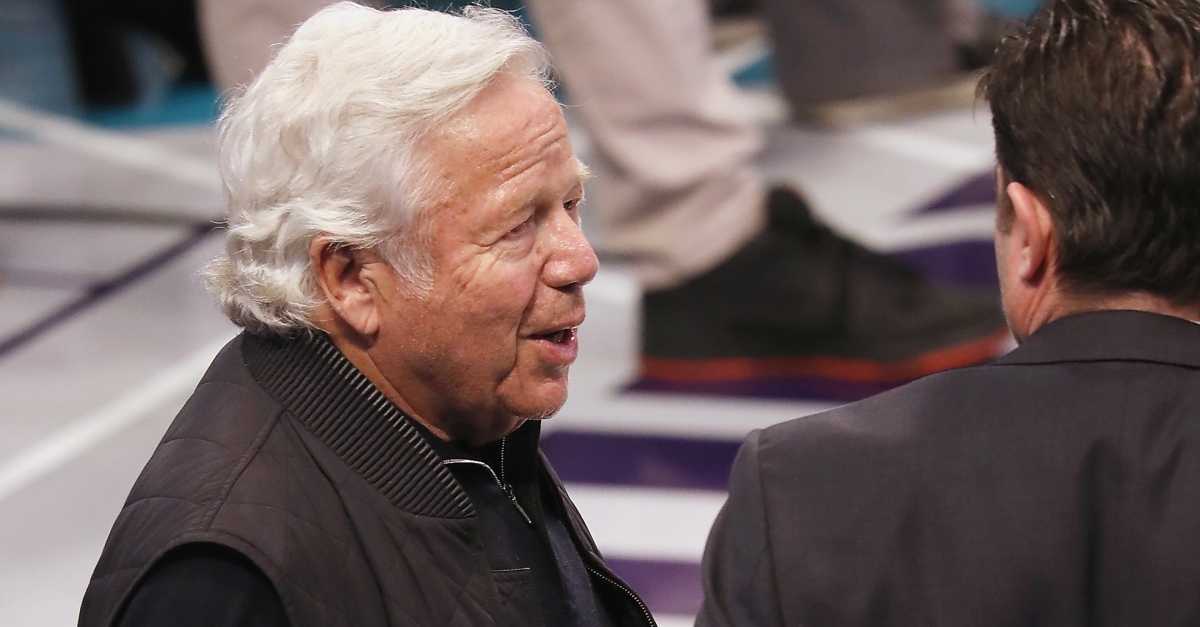 Prosecutors in Palm Beach County, Florida say they have to release secretly recorded footage of New England Patriots owner Robert Kraft and other defendants charged with soliciting prostitution, according to a court filing obtained by Law&Crime. The only thing that can stop them at this point is a court order.
Absent a Court order, the State will be releasing the requested public records once it has retrieved and reviewed the records, and deleted any portions of the record which are statutorily exempt under Chapter 119 [the Public Records Act].
Well, there's now a court order. Kraft's legal team complained about the prosecution's motion, according to a document obtained by Law&Crime.
The state attorney's office argued that it must release footage under state law, and they can't delay because someone raised a constitutional challenge. This filing came from the criminal case of Lei Wang, who was a manager at the Orchids of Asia Spa. That's were Kraft allegedly paid for sex acts on January 19 and 20. Prosecutors already detailed the sordid stuff, but Kraft's legal team has tried to keep the actual footage from seeing the light of day.
Records in Wang's case show that a motion to prohibit temporary release of documents was granted on Wednesday.
Kraft's attorneys said media outlets intervening in the case just want it for the salacious bits for "eyeballs and clicks." It's really nobody's business, they said.
"If the affidavit says what happened, what is the interest the public has in seeing it?" said attorney William Burck in court last Friday. "It's basically pornography, your Honor." He argued that if the video is released the harm done to Kraft would be "catastrophic."
Kraft's team asked the judge last week for a protective order to keep the video from being released, at least before an April 26 hearing to determine if footage would be allowed in the criminal case. Media outlets–including The New York Times–had intervened in the case, saying the public had a right to know. The defense argued the clips shouldn't even exist, and were obtained as part of an illegally obtained warrant to install secret cameras in the spa.
Kraft's legal team has been hammering prosecutors and law enforcement after they initially described this as a "human trafficking" case, but didn't file such charges.
Matt Naham and Ronn Blitzer contributed to this report.
Editor's note: This story has been updated after publication to reflect that the release of the footage in question was blocked.
[Image via Jeff Hahne/Getty Images]
Have a tip we should know? [email protected]