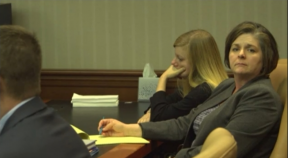 Ohio babysitter Lindsay Partin was found guilty of all counts on Friday in the murder of 3-year-old Hannah Wesche. Charges included murder, involuntary manslaughter and child endangerment.
Authorities in Butler County said the victim was found unresponsive on March 8, 2018, and passed away 10 days later. Assistant Prosecutor Lindsay Sheehan told jurors in closing arguments that Partin caused the brain injuries that led to her death.
Defense lawyer Melynda Cook Howard argued that Hannah's dad Jason Wesche was responsible. She said he showed no emotion when shown pictures of the victim during testimony. The father hurt Hannah, she said.
Howard said that Wesche didn't get mad when Partin went to the hospital, even though a doctor claimed that Hannah had been abused.
She pointed out that he falsely told investigators that he went to Walmart to get milk on March 7. He attributed that misstatement to being stressed in the wake of his daughter's injuries, but Howard said this was just him covering his back. He also lied to a doctor treating Hannah, she said. The defense said that prosecutors threw various charges at Partin because they just couldn't pinpoint the timing of the alleged assault.
The defendant testified Wednesday that she confessed to hitting Hannah because detectives refused to accept her initial story. Partin insisted she felt "bullied" by detectives.
"She changed her story because they told her to stop saying it," Howard said in closing arguments.
Sheehan construed the confession as credible. Partin, not detectives, provided details, she said.
The prosecution claimed that Partin had in fact lost control and beat Hannah because she had recently suffered a miscarriage.
Sentencing is set for May 9.
[Screengrab via Law&Crime]
Have a tip we should know? [email protected]