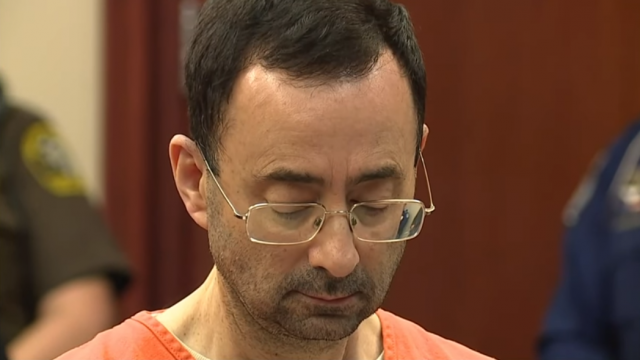 Former USA Gymnastics doctor Larry Nassar will be sentenced Wednesday. Nassar was an associate professor at Michigan State University and a doctor for USA Gymnastics through four Olympics games. By the time Nassar is sentenced, at least 160 women will have spoken against him and told their stories of sexual abuse at the hands of the former doctor at a sentencing hearing which has lasted a week and a half in a local Michigan courthouse. At least three more were slated to give statements Wednesday morning before the judge moves forward with the sentencing.
—>>WATCH THE SENTENCING LIVE HERE <<—
Legally, here is what you need to know.
(1) Why is Nassar in court right now?
Nassar is in court to be sentenced on seven counts of first-degree criminal sexual conduct in Ingham County, Michigan, which covers the Michigan State University campus in East Lansing. The charges were filed in February 2017, and Nassar pleaded guilty to the charges in November 2017. The seven guilty pleas were part of an agreement which disposed of only a fraction of the original 23 charges Nassar faced in Ingham County.
The seven pleas involve three underlying charges for a victim under age 13; three underlying charges for a victim between 13 and 15; and one underlying charge for "multiple variables" under the Michigan criminal sexual conduct statute, which is lengthy.
(2) What are the judge's options?
Nassar's plea agreement states that he agreed with prosecutors to an "indeterminate" sentence with a minimum sentence in the range of 25 to 40 years in prison for each of the seven charges to which Nassar pleaded guilty. Under the statute, the maximum punishment for at least some of the charges is life in prison. The agreement reads:
The Court also has the authority to determine the Defendant's maximum sentence imposed for all seven counts, so long as the minimum sentence is at most 2/3 of the length of the maximum sentence.
That gives the judge a lot of leeway as to a maximum sentence on each count. The minimum sentence just has to be somewhere between 25 and 40 years for each count.
A lot of this is a game of semantics, as we'll discuss below.
(3) Isn't he in trouble for other reasons?
Yes. In federal court, Nassar has already been sentenced to 60 years in prison on child pornography charges. Prosecutors there said investigators recovered 37,000 videos and images as evidence. In that case, a federal judge went over the sentencing recommendation of 22 to 27 years and instead sentenced Nassar to three back-to-back, 20-year sentences.
In state court, Nassar also pleaded guilty to three charges of criminal sexual conduct in Eaton County, Michigan, a neighboring county immediately southwest of Lansing. The Eaton County plea came after 13 charges were filed against him in that county. That case is separate from the case occurring today.
Plus, Nassar faces a mountain of civil litigation filed directly against him by his victims.
(4) Nassar pleaded guilty to seven counts.  Does he have to serve those sentences back-to-back?
Not necessarily. Under the plea agreement, prosecutors promised not to object if the judge agrees to allow Nassar to serve his state punishments concurrently (at the same time as one another). So, for instance, Nassar could get a minimum of 25 years on each of the seven counts, but he could serve them all at the same time for what ultimately would be a 25-year sentence. The concurrent sentencing scheme could also, under the agreement, cover Nassar's other legal issues in neighboring Eaton County. In other words, he could serve all his Michigan state sentences at the same time.
(5) Is Nassar going to die in prison?
The judge who is overseeing the sentencing hearing has said she expects Nassar to die in prison. He's 54 years old and already faces a 60-year sentence on federal pornography charges. Regardless of what the state court system does to him, it appears nearly impossible that he'll live life outside prison walls again.
(6) Does Nassar have to serve his state and federal sentences back to back?
Generally, prisoners who are sentenced for both state and federal crimes serve state sentences first, then federal sentences second.
(7) What happens to the other charges?
As part of Nassar's guilty plea in Ingham County, prosecutors agreed to drop the other charges he faced in that county. They also agreed not to prosecute him for other offenses they believe they uncovered but did not charge, including child pornography said to be unrelated to the federal crimes for which he has already been sentenced in federal court. A similar agreement appears to be in effect for the Eaton County charges. Bottom line:  in return for Nassar's guilty plea on seven charges in one county and three charges in another county, all other state charges go away, even though he originally faced 36 charges across two Michigan counties and had the possibility of more charges on the way.
Have a tip we should know? tips[email protected]
Aaron Keller - Deputy Editor-in-Chief