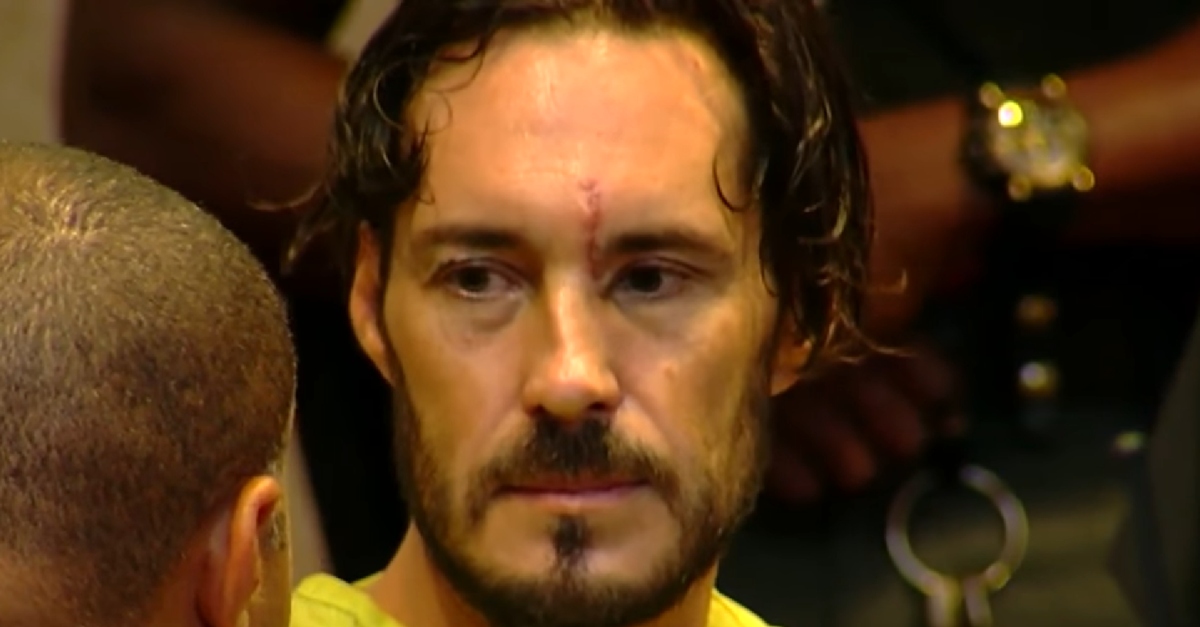 James Edward Geran pleaded guilty Monday in the murders of his "business partner," and his girlfriend's mother.
Jame Geran is in the courtroom at the podium. He is pleading guilty to aggravated murder with gun spec and murder with a gun spec. Other charged dismissed. @journalnews .

— Lauren Pack (@LPackJN) December 10, 2018
Asst. Prosecutor Brad Burress is reading the facts of the crime that Geran shot Megan Motter in the head the day before the standoff in which he shot Sharon McCleary in the head with the some gun in her apartment. @journalnews

— Lauren Pack (@LPackJN) December 10, 2018
His trial was originally scheduled for Monday, but the plea deal came down in the eleventh hour. Sentencing is set for January 17, 2018. He faces life in prison. The question is whether this will be without the possibility of parole, or whether he can get it after 26 years.
He was originally charged with aggravated murder, murder, felonious assault, improperly discharging a firearm at or into a habitation, and two counts of having weapons while under disability (he has a prior criminal record).
James Geran has arrived to the courtroom. Prosecutor says he has agreed to a guilty plea. He is already currently serving a prison sentence @WLWT pic.twitter.com/O7O54GhXDr

— Alexis Rogers (@AlexisWLWT) December 10, 2018
The investigation started with the discovery of Megan Motter, 27. She had been shot in the head, and left dead near a gun range on June 12, 2018. Authorities tracked down Geran to an apartment the next day, Butler County Sheriff Richard K. Jones said at a press conference at the time.
They knocked at the door, but Geran started shooting, according to investigators.
Officers were able to get cover. Geran had three women as hostages, Jones said. It was two sisters, and their mother.
After some negotiations, the suspect released one of the sisters. He later promised to surrender, but only after smoking a cigarette. At that point, he released the second sister (his girlfriend), but the suspect shut the door, Jones said. Authorities heard two shots. Inside, they discovered the women's mother, 63-year-old Sharon McCleary, dead. Geran was found with an apparently self-inflicted gunshot wound to the chin.
Remarkably, Jones said that the suspect was able to talk in spite of the injury, which included missing teeth and a jaw in "bad shape." Even at the time, the wound wasn't considered life threatening. In September, a Journal-News report described him as having no difficulty speaking with other inmates and his lawyer.
Authorities have described Motter as a "business partner" or "associate" of the suspect. It wasn't like a "suit and tie" job, Jones said. He described it as "criminal activity," but declined to elaborate.
Gina McCleary, the woman described as Geran's girlfriend, spoke to Local 12 in July, and said she was "on the fence" regarding how she felt. She attributed the incident to him being off his medication, and insisted that this "technically" wasn't a hostage situation.
"It just played out that way," she said.
[Screengrab via Local 12]
Have a tip we should know? [email protected]