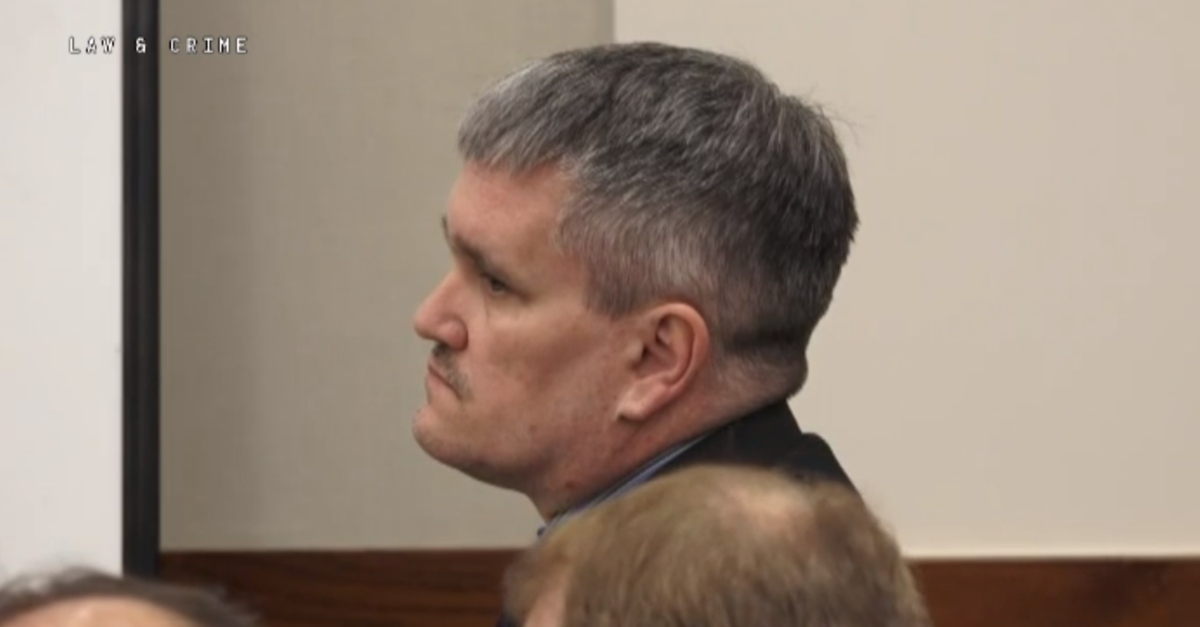 It took 13 years to get here: David Russell Holbrook has been found guilty of first-degree murder in the homicide of Florida woman Melissa Howard.
Prosecutors said the established timeline, DNA evidence, and the defendant's shifting story showed that he's responsible for the brutal stabbing and beating death. The defense insisted that investigators failed to account for all of the possible evidence, that there's no evidence of a clear motive, and that another man–Howard's then-boyfriend–might have done it.
Howard had recently divorced her former husband Brian Howard, and just won custody over their son Taylor, then 11. Melissa claimed that Holbrook, a friend of her ex's, confronted her about the child on Jan. 4, 2006, according to her attorney Janis Burke.
State Attorney Clifton Drake highlighted this detail in closing arguments on Wednesday.
"You need to let that boy be with his father," Holbrook allegedly said. "And you need to let this go."
Defense lawyer John Jarvis III insisted that the prosecution couldn't establish a motive. Holbrook and Brian Howard weren't even that close, said the defense. Drake said the two knew each other since about 1996 or 1997. Jarvis said that Mr. Howard was "somewhat" friends with the defendant's brother.
Jarvis tried to show that Melissa Howard's then-boyfriend Christopher Cadenhead had the time and possible motive to kill her. The thing is, Cadenhead was a married man and only admitted to the affair when he called his wife that night–after he found the victim's body. Jarvis pointed out that the now-grown Taylor testified that Cadenhead was at the home the night of the murder, and that the older man didn't let him look inside a bag. The boyfriend may have killed Howard because she said she was pregnant, Jarvis suggested. (She wasn't, and the defense said her tubes were tied.)
The defense said there's no evidence of forced entry, and that Howard–who had a security camera at her home–wouldn't have let Holbrook in. Jarvis suggested that the victim knew, and was comfortable enough with the killer to let them in. He said there were two beer bottles at the scene. One featured her DNA, but the other was left behind. It wasn't even taken as evidence. He suggested that this bottle, if tested, could've shown whether the victim was drinking alone, or with another person.
Drake's timeline of events could be seen to exclude this boyfriend as a likely killer, however. Evidence showed that Cadenhead was the last person to call Howard, in a conversation ending at 8:52 p.m. The victim was found after her daughter Keri and the girl's boyfriend arrived at the home between 10:50 p.m. and 11:00 p.m., and Cadenhead discovered them at the residence. Cadenhead's wife–who went onto divorce and remarry him–testified that he returned home between 9:00 p.m. and 9:15 p.m, Drake said. Only Holbrook had the demonstrable timeline to have murdered Howard, said the prosecution. Surveillance footage showed him at Walmart at 9:35 p.m. and 9:37 p.m.. The defendant previously called a woman at 9:29 p.m.
Drake suggested that Holbrook–a large man with military training and love of knives–had more than enough time to kill the much smaller Howard.
Jarvis said prosecutors couldn't establish motive. There's no "paper tail," or connecting of the dots, he argued.
The prosecution argued that this wasn't a robbery because valuable items, including a purse, were left behind. "I'll give them that," said Jarvis. There were signs of a struggle. The couch cushions were in "disarray," he said.
Drake argued that DNA on Melissa's sweater belonged to Holbrook, and said that the contamination of another sample had nothing to do with the sweater sample. Jarvis said the finding couldn't conclusively show it was the defendant, and that the Florida Department of Law Enforcement faced pressure to solve the cold case (Holbrook was arrested in 2016, 10 years after the alleged murder). The victim's sister belonged to the FDLE.
"This was one of their own," Jarvis said.
[Screengrab via Law&Crime Network]
Have a tip we should know? [email protected]