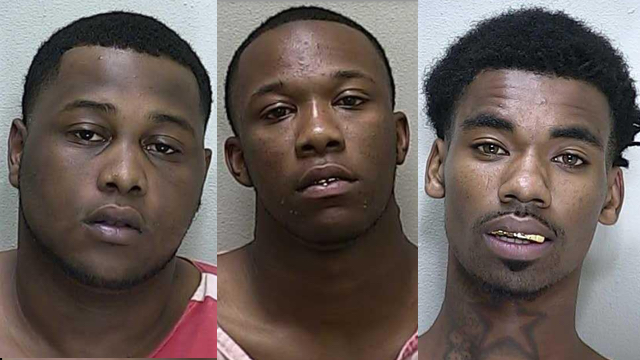 Juries have convicted Laquan Barrow and Michael Eugene Smith of second-degree murder and multiple counts of attempted second-degree murder for their roles in a deadly shooting outside the Cloud 9 Nightclub in Ocala, Florida.  Benetria Robinson, 19, died at the scene with gunshot wounds to her head and shoulder. Five others were wounded in the September 13, 2015 attack, which prosecutors say started after a few women began fighting inside the club. The fight spilled out into the parking lot and the defendants escalated it, prosecutors alleged, but bringing guns, threatening to shoot, and firing 21 bullets shortly later. A third defendant, Gary Edward King, still awaits a verdict, as a second jury is deliberating his case.
Smith was sentenced shortly after the verdict. At sentencing, the mother of victim Benetria Robinson stated briefly that she was pleased with the conviction and felt justice had been done. Smith's mother and other relatives pleaded for leniency. The defendant told the judge he was innocent. The judge sentenced Smith to life in prison for killing Robinson along with a series of other sentences related to the other injured victims.
Barrow will be sentenced sometime over the next several weeks.
Barrow, Smith, and King each originally faced second-degree murder charges related to the death of 19-year-old Benetria Robinson. All three were also charged with attempted second-degree murder for allegedly shooting and injuring Nathaniel Kendrick, Dontarious Bartley, Thomia Wadley, and Danvinist Blunt. Barrow and Smith were charged with attempted second-degree murder for shooting victim Danielle Kendrick, but King was not, according to the list of charges brought before trial. At the close of the state's rebuttal case, the judge agreed to allow the jury to consider the lesser-included offenses of manslaughter and attempted manslaughter with relation to the various victims.
Several of the defendants warned or threatened patrons that violence was about to erupt, according to police reports. Barrow said, "Y'all better move, I got bond money and I am going to catch a body tonight," according to an arrest affidavit.
Investigators found 21 shell casings at the scene. Ballistics experts traced the casings back to three separate weapons. One weapon fired 13 bullets; a second and third gun fired four bullets each, investigators said. The shooting took place over a period of about five seconds. Police who were working an unrelated traffic stop around the corner picked up the sound of the gunfire on body cameras.
During the trial, one witness refused to testify truthfully and refused to even acknowledge his name. The judge sentenced that witness to six months in jail for contempt. Another witness who did testify refused to admit he had previously told police he saw one of the defendants pull the trigger.
However, victim Nathaniel Kendrick, who originally implicated only Laquan Barrow as a shooter, at trial said all three defendants were involved. Defense attorneys questioned the discrepancy, but Kendrick snapped back that he'd never forget the faces of the three people who tried to kill him. Kendrick was shot in the chest and was the most severely wounded of the survivors. He spent a month in a coma after a series of surgeries and was medicated when police interviewed him, he said.
The majority of the witnesses implicated Laquan Barrow as the shooter. A few implicated Smith. Police reports also indicate Smith confessed to a friend. The state presented the least evidence against King.
None of the defendants were arrested immediately after the shooting. Barrow was arrested until eight days later on September 21, 2015. King wasn't arrested until October 26, and Smith wasn't arrested until October 27.
Editor's note:  this piece has been updated to include information about Smith's sentencing.
Have a tip we should know? [email protected]
Aaron Keller - Deputy Editor-in-Chief