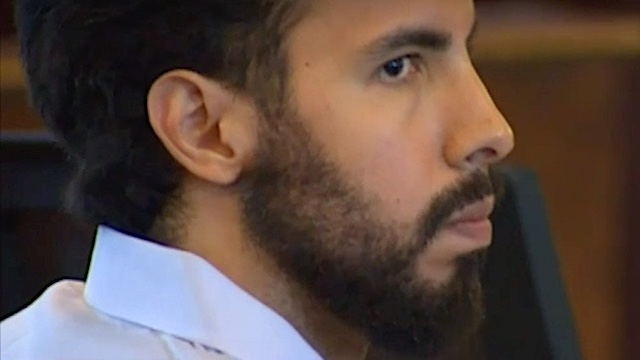 A former Coast Guardsman charged with shooting and murdering fellow service member Lisa Trubnikova, shooting and injuring her wife Anna Trubnikova, and shooting and injuring a responding police officer told interrogators he fully intended to kill his victim.
"Yes, I murdered a woman," he said to interrogators. "I opened fire on a police officer."
"My intent was to engage in a firefight," he added.
Jurors heard those statements in a recorded police interrogation of Adrian T. Loya, who is accused of thirty separate counts in Barnstable, Massachusetts.
Loya told police interrogators immediately after the February 5, 2015 killing and shootings on the southern hook of Cape Cod that his actions were the result of what Loya repeatedly called a "sexual assault" from when he and the Trubnikovas were in the Coast Guard together in Alaska. Loya claimed that in September, 2012, Lisa Trubnikova invited him to her house when her wife was out of town. She then began fondling herself in front of him and pulled him towards her bedroom, he claimed in the interrogation. She said, "Let's do it." He claimed his reaction was to go into a "frozen state" and that he was "horribly shaken." He further claimed Lisa kept touching herself in the bedroom, but that he left the house.
Later, Loya claimed he reported the incident to the U.S. Coast Guard, but that authorities there refused to move forward with an investigation because there was no physical evidence of the incident. Instead, Loya told police he was accused by Coast Guard officials of abusing his power. Loya also claimed in the interrogation that he did not earn an anticipated promotion because he made the report.
Though Loya repeatedly called the 2012 Alaska incident a "sexual assault" at on at least one occasion referred to it as a "sexual attack," he did not appear to provide any details in the interrogation to support his claim. Sexual assault is generally defined legally as the unwanted touching of another person's sexual or intimate parts. In the interrogation, the only time Loya claimed to have been touched was when he claimed Lisa Trubnikova pulled him towards her bedroom, but he did not claim that touch involved intimate areas.
After making the failed report to the Coast Guard, Loya claimed he wrote a letter to Lisa Trubnikova and to her wife, Anna, explaining that he was upset about the incident.
He told police he went on to write a 250-page letter explaining what actually happened in Alaska. Prosecutors have not yet entered the letter into evidence. Loya claimed it was stored on a USB drive.
Loya told police during the interrogation that he began plotting the murder in 2013. He said he shot out the door of the Trubnikovas' condominium, went upstairs, opened the door to the couple's bedroom, and ordered them to get down. They refused. At one point, he said Lisa Trubnikova recognized him and called out his name before removing his mask. At another point, he said he was wearing a mask, but that he took it off; then, Lisa Trubnikova recognized him. He told the women to put their hands up, but they also refused to comply, he claimed to police. He told interrogators that Lisa asked him why he was there; he responded by saying he was there because of what he referred to as the "sexual attack" from Alaska.
Loya told police Lisa Trubnikova said "I'm sorry, I'm sorry." She then told him she was drunk on the day she was said to have propositioned him in Alaska, Loya told police. Loya claims he told Lisa that she had two years to apologize, but didn't. Shortly later, he shot and murdered her, prosecutors allege. Loya said Anna and Lisa Trubnikova hid behind a mattress as he emptied his fifteen-round pistol magazine into their bodies. He then heard "gurgling noises," he told interrogators. He described the murders as a "mission" and likened his feelings later as those similar to someone wrapping up and heading home after a long day at work.
Loya told interrogators he assumed he would be shot and killed by the police. He said he was surprised that the officers showed restraint.
Loya faces some thirty counts in Massachusetts as a result of the death and shootings. His charges include murder, armed assault, aggravated assault and battery, armed home invasion, and assault and battery on a police officer, among others.
Loya also told interrogators about the fake bombs he left around the neighborhood before barging into his victims' condominium. Two soda bottles which were taped together with wires and a box were full of Skittles and M&M's candies, he said. He also claimed to have "rape alarms" in his pants.
Loya's defense attorney told the jury during opening statements that he should be found not guilty because he was suffering from a "mental disease or defect." Under Massachusetts law, if a defendant uses such a defense, the Commonwealth has the burden of proving that the defendant did not have a mental disease or defect. The defense only works if the jury finds the defendant was either "unable to realize that his behavior was wrong" or "was unable to
make himself behave as the law requires," the Commonwealth's model jury instructions explain.
The judge presiding over the case refused Thursday to release transcripts of the interrogation.
Aaron Keller is a licensed attorney who works as a live, streaming trial host for the LawNewz Network. Follow him on Twitter:  @AKellerLawNewz.  
LawNewz Network Senior Trial Producer Cathy Russon contributed to this report.  Follow her on Twitter:  @CCLawNewz.  
Have a tip we should know? [email protected]
Aaron Keller - On Air Host