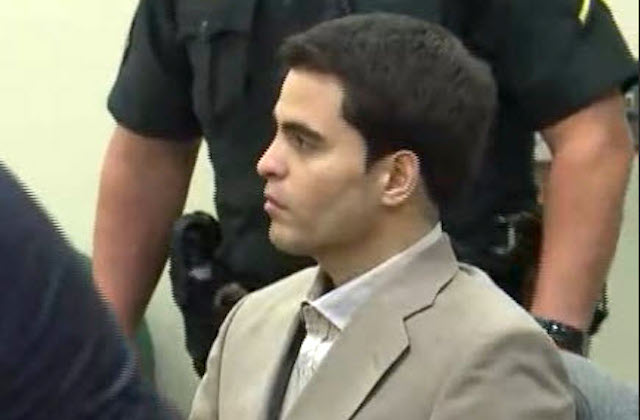 A Florida jury is hearing testimony to determine whether Adam Matos should be convicted of first-degree murder charges related to the deaths of his former girlfriend, her family, and her new romantic interest.
Megan Brown, who was the mother of Matos's child; Greg and Margaret Brown, Megan's parents; and Nick Leonard, a man sometimes described as Megan's boyfriend were all killed. Police found all four victims' bodies stacked near a roadside about a mile from where they lived.
Matos is described in court records as both quiet and prone to violent outbursts. An independent LawNewz.com review of selected Florida court documents reveals how Matos came to live with the family he is accused of killing and provides glimpses into their relationships.
Pennsylvania Connections
According to relatives who gave pretrial depositions, the Brown family lived first in New Jersey, then in Pennsylvania, where the family had a farm. Margaret raised horses and dogs. Gregory, a former electrician, developed back problems which resulted in surgery and a disability claim.
While in Pennsylvania, Megan Brown gave birth to a child, according to a deposition from the lead investigator in the case, Chet Cougill. Matos was the father. Though some news organizations have named the child, he is referred to in public pretrial records only by the initials "TB."
A man who claimed to be Megan Brown's boyfriend back then told a Pennsylvania newspaper that he was present for TB's birth, that the child was originally named after him, that he signed the birth certificate as the father, and that he and Megan planned to raise the child as their own; however, Megan Brown and Matos went behind his back to obtain a DNA test. The test, according to the former boyfriend, indicated Matos, not he, was the father. He and Brown eventually split up.
Four years later, Margaret Brown's parents moved to Florida and planned to build a retirement home. The Browns decided to move to Florida to be closer to them.
The Browns decided that Adam Matos, the defendant, should accompany the family to Florida because he was TB's father. TB had been diagnosed with autism. The Browns believed Matos should be present for the child and also were concerned about family law complications of moving TB out of state, said some relatives in pretrial depositions.
During a deposition, Linda Thomas, Megan's step-grandmother, suggested Matos was present as a "necessary evil" for the Brown family.
The Browns and Matos moved into their Florida rental home on July 2, 2014, according to relatives. They'd be dead less than two months later.
Personalities, Parenting Styles, and Fights
James Thomas, Megan Brown's grandfather, said during a deposition that Matos "was a very quiet, withdrawn person." Linda Thomas, Megan's grandmother, said that while the Browns were generally out and about in their new house, Matos remained isolated in his bedroom playing video games. While she said there was no animus in the air, it was impossible for the rest of the family to have a relationship with Matos because he was sealed up in his room.
The relatives' memories paint a confusing picture of Adam Matos.
James Thomas described Matos as "very adoring and very caring with his son . . . [h]e was a very thoughtful person of a loving nature, it would appear . . . [h]e was also quick to employ corporal punishment," he said.
Linda Thomas, during her own, separate deposition, said Matos was "attentive, adoring . . . absolutely cared,"  "certainly not indifferent," and was "not impatient" with TB, she believed.
Thomas said the relationship between Megan Brown and Matos was full of strife, which was compounded by TB's special needs.
Matos's interactions with Megan could become "volatile," James Thomas said during depositions. Many of the fights were the result of different parenting styles, both James and Linda Thomas said during separate depositions. While Megan was protective of TB, Matos was a "disciplinarian."
Brown and Matos would argue about the proper way to raise the child, then engage in "flare-ups," James Thomas said. The arguments that followed were about "whether or not corporal punishment was appropriate."
Linda Thomas described "great inconsistencies" in how adults interacted with TB.
"On more than one occasion," the flare-ups "alarmed me enough that I thought I might have to intervene on Megan's part," James Thomas added.
One time, a fight between Megan Brown and Matos surrounded why Matos was cleaning the Brown family motor home when he was supposed to be watching TB. (Thomas said Gregory Brown was the one who asked Matos to clean the motor home, but it's unclear if it was the same instance or occurrence which led to the fight.)
During one fight between Brown and Matos, Matos rose his voice as if it was "coming from the bowels," Linda Thomas said. It was "an attempt to bring all your energy into your voice," and it was "enough to frighten me," she added. Everyone present ran to separate Matos and Megan Brown.
At another point, according to Linda Thomas, TB came running to Megan and said that Matos had hit him. TB had a red mark on his skin.
Gregory Brown would sometimes have to get in the middle of fights between his daughter Megan and Matos, the family said.
Attempts At Reconciliation
Linda Thomas appears to have attempted to facilitate harmony between the Browns and Matos. One time, she suggested that Matos go to parenting classes, and he seemed to agree, Linda Thomas said during a deposition. Another time, she talked to him about getting a job and told him that working would help boost his self-esteem. Still another time, when she went to leave, Matos came up, hugged her, and thanked her for her concerns.
"It's difficult and confusing memories, to be honest," she recalled during a deposition well after the murders.
Paying Rent
Matos was to get a job and help pay rent. Matos did not. Gregory Brown at one point confronted Matos about it, according to the deposition of James Thomas.
Linda Thomas said at least one confrontation came via a telephone call between Gregory Brown and Matos. The relationship between Matos and Gregory Brown had deteriorated by the end of July, less than one month after the move, she said.
It remains unclear how much of this information will make it to the jury. The trial is ongoing in Florida. The LawNewz Network is providing live, gavel-to-gavel coverage and expert analysis.
Have a tip we should know? [email protected]
Aaron Keller - Deputy Editor-in-Chief