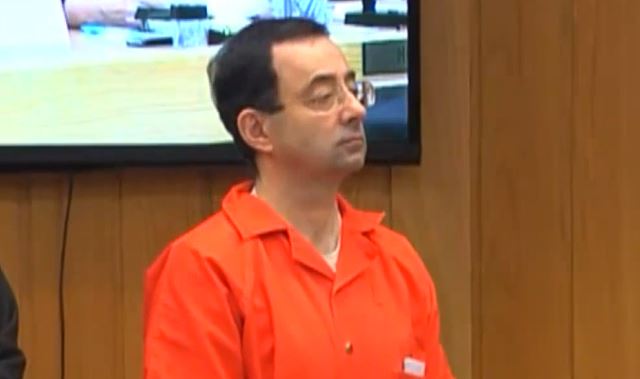 On the third day of his sentencing hearing in Eaton County, Michigan, former USA Gymnastics and Michigan State University doctor Larry Nassar was sentenced to between 40 and 125 years in prison for three counts of first-degree criminal sexual conduct. Nassar pleaded guilty to abusing female patients during medical treatments. Dozens of women and girls spoke in court over the course of the hearing, providing victim impact statements that described their experiences.
This sentence is in addition to two other lengthy sentences Nassar wills serve for other offenses. Last month, he was sentenced to between 40 and 175 years in prison after he pleaded guilty to seven counts of first-degree criminal sexual conduct in Ingham County, Michigan. That hearing included victim impact statements from nearly 160 women and girls, including Olympic gymnasts Aly Raisman, Jamie Dantzscher, and Jordyn Wieber. Nassar was also sentenced to 60 years in prison in a federal child pornography case.
Judge Janice Cunningham said to Nassar before announcing the sentence:
You were a prominent doctor in our society, you were the member of an Olympic team. You have been pampered and lived a high class lifestyle. And now the result will be spending the rest of your life in a small prison cell. I am sure that is unthinkable to you, but you will be left to sit there with only the memories of destroying your own family, and I do not believe that you will have the ability to shut out the words of the children, and the young women, and the adults who trusted you and who you let down. That will be your lifetime consequence.
Judge Cunningham said that Nassar will serve this sentence at the same time as the Ingham County sentence, but not the federal sentence.
[Image via Law&Crime Network screengrab]
Have a tip we should know? [email protected]