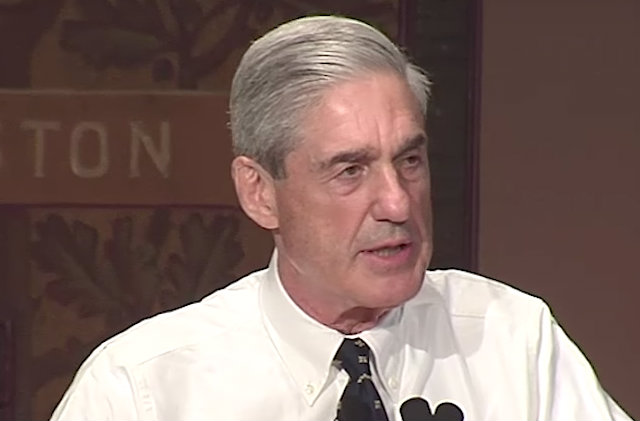 The wagons appear to be circling in Special Counsel Robert Mueller's investigation of the Trump campaign's ties to Russian interference with last year's election. First, we saw an indictment of former campaign head Paul Manafort (albeit on unrelated charges), then a guilty plea from campaign adviser George Papadopoulos. Now, there's the guilty plea of former National Security Adviser Michael Flynn, based on false statements he made to the FBI about his conversations with the Russian ambassador. Pundits are speculating that this latest development could be bad news for President Donald Trump, but it may be just as likely that it could spell trouble for Mueller.
The power to fire Mueller lies with Deputy Attorney General Rod Rosenstein, since AG Jeff Sessions recused himself from the matter. Rosenstein has said he wouldn't fire Mueller without good cause, but if Trump removes him or Sessions, their replacement would be able to do it.
Such a move would raise eyebrows across the country, but that doesn't mean it would be against the law. Assumptions of criminal intent are not the same as actual corruption. People were quick to accuse Trump of obstruction of justice when he fired FBI Director James Comey, but there was no evidence that Trump was aware of any crimes (of course, that could change now that Michael Flynn has pleaded guilty).
Remember, Trump wasn't under investigation when he fired FBI Director James Comey. The infamous memo that Comey wrote about his conversations with Trump indicated that the Russia investigation was causing significant stress for the President. That shows that even when he's not in trouble, Trump has no problem taking action when it comes to the Russia probe.
The Comey firing led to Mueller's appointment and subsequent investigation of whether Trump obstructed justice. Now that he's feeling the heat directly, and more and more people close to him are going down, the stress could prompt Trump to put an end to it all.
Like the Comey firing, this would have political opponents and pundits shaking their fists, but Trump would be able to defend himself by sticking with the same narrative he's had the entire time: he didn't do anything wrong, and there's no need to have this investigation. He could even use the recent convictions and indictments to support his stance. If all Mueller has is minor convictions regarding false statements, and indictments that have nothing to do with Trump campaign activities, why waste time and taxpayer money on this?
The repercussions for getting rid of Mueller would likely depend on what kind of information his office has collected thus far. Flynn's plea and statement that he was in discussions with the Trump transition team regarding his talks with the Russian ambassador don't paint a flattering picture for the president. Also, it was reported that Flynn is ready to testify that Trump himself directed him to talk to the Russians. All of this makes it seem likely that Trump was aware that Flynn—and perhaps others—lied to the feds, and maybe committed other crimes.
Still, "likely" isn't the same as "guilty beyond a reasonable doubt." It's easy to hear news reports and form opinions on what may have probably occurred, but for Trump to get in trouble for having Mueller fired, there would have to be conclusive evidence that he acted to impede the investigation with a corrupt intent. There's certainly reason to believe that this information could be forthcoming with Flynn's cooperation, but speculation isn't the same as evidence.
—
Ronn Blitzer is the Senior Editor of Law&Crime and a former New York City prosecutor. Follow him on Twitter @RonnBlitzer.
Have a tip we should know? [email protected]