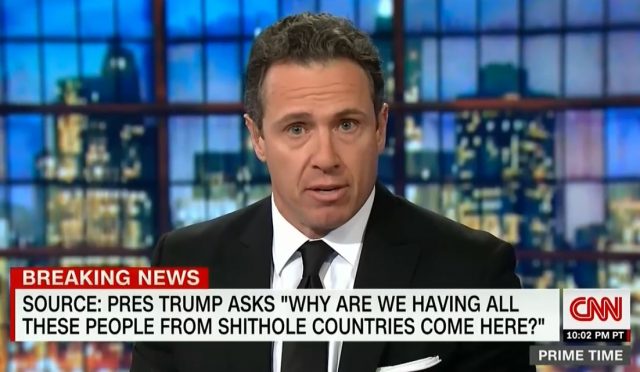 One side issue that's come up in the wake of President Donald Trump's alleged use of the word "shithole" to describe Haiti, El Salvador, and countries in Africa is the way TV news outlets have covered the story. While many outlets opted to censor the profanity, others chose to use the word on the air, upsetting some viewers in the process. Now, CNN and NBC are both reportedly the subject of multiple complaints filed with the Federal Communications Commission. The question is, can they really get in trouble for this?
CNN has used the uncensored "shithole" in chyrons, and network personalities like Don Lemon and Chris Cuomo have said it on the air. This was definitely out of the ordinary, since CNN and other basic cable channels typically refrain from using such language, but FCC regulations don't apply to them. The FCC's decency regulations only apply to broadcast television networks, the major ones, of course, being CBS, NBC, FOX, ABC, and the CW.
Broadcast networks are prohibited from broadcasting indecent or profane material between 6:00 a.m. and 10:00 p.m. According to the FCC's website, if a broadcast (non-subscription) channel were to violate the rule by airing profanity, the FCC "has the authority to revoke a station license, impose a fine or issue a warning. "On Thursday, a segment on NBC Nightly News about Trump's comment included a reporter using the word "shithole" in quoting the president's alleged remark. The program airs in the evening, before 10:00 pm.
This may seem like a clear violation of FCC regulations, but this is not necessarily the case. The FCC does have have discretion in determining whether material is in violation for being profane or indecent. The FCC makes it clear, "[their]determination as to whether material is indecent, profane, or potentially obscene rests upon its context."
The context of NBC's use of the word was in the context of reporting the alleged words of the president of the United States, and discussing the repercussions of the public learning about those words. While NBC could have censored the word, the word itself was a major part of the story, if not the story itself. Additionally, host Lester Holt warned viewers beforehand, saying that the report uses the expletive on one occasion, and may not be suitable for all viewers.
I reached out to the FCC for their take on the issue, but they have yet to respond. Given the context of NBC's usage, the disclaimer they issued immediately beforehand, and the fact that it was only used once in the report, I'd be surprised if they face serious — if any — consequences.
Ronn Blitzer is an attorney and the Senior Editor of Law&Crime.
[Image via CNN screengrab]
Have a tip we should know? [email protected]