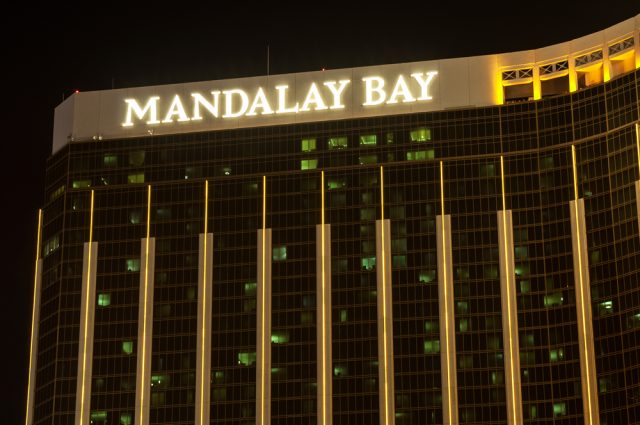 The shooting that occurred Sunday night in Las Vegas was the deadliest in modern U.S. history, once again sparking conversations about gun control laws. Early reports indicated that suspect Stephen Paddock had used an automatic firearm, which is generally prohibited under federal law unless manufactured and registered before May 19, 1986, but as the investigation moved forward, we've learned that he was in possession of semi-automatic weapons (which require a separate trigger pull for each shot fired and are not prohibited), and "bump-stocks," which allow for a rapid-firing of the trigger to simulate the effect of an automatic. Bump-stocks can allow a shooter to fire between 400 and 800 rounds per minute.
While some modifications of weapons are against the law, bump-stocks are perfectly legal. Senator Dianne Feinstein (D-California) has long pushed for these devices and others like them to be banned.
In addition to the bump-stock loophole, the State of Nevada has pretty permissive gun laws. People in the state can legally carry firearms in public, although there are exceptions for places like government buildings, airports, schools, and child care facilities.
Permits are required to carry a concealed firearm, and they can be denied for a number of reasons, including if the applicant has an open warrant for their arrest, or if they have a criminal history including violence or stalking. In Clark County, where Las Vegas is located, all handguns must be registered. Convicted felons in the state are banned from possessing firearms altogether, as are people who are found to have unlawfully used controlled substances, and people who have been committed to mental health facilities or have been adjudicated mentally ill.
Despite Nevada's open carry law, the shooting took place at the Mandalay Bay hotel, which has a strict no-weapons policy. Such policies technically don't have the weight of law, meaning they can't remove your weapon, but they can tell you to leave and have you arrested for trespass if you don't.
Note: An earlier version of this article was based on initial reports that Paddock had used an automatic firearm, not semi-automatic weapons fit with bump-stocks.
[Image via Shutterstock]
Have a tip we should know? [email protected]