A former Playboy and Maxim model was sentenced to 10 to 25 years in Nevada state prison on Tuesday over her role in the death of a California doctor found stuffed in the trunk of a car near Las Vegas.
Kelsey Turner, 29, entered an Alford plea in November of last year, one of the defendant's representatives previously told Law&Crime. At the time, Turner was aware of the sentence she faced and agreed to enter the plea one one charge of murder in the second degree in exchange for guaranteed parole eligibility after 10 years behind bars.
An Alford plea allows criminal defendants to maintain their innocence on the facts of an allegation while simultaneously accepting that the state's evidence would probably be enough to convince a judge or jury of their guilt beyond a reasonable doubt.
According to Las Vegas-based CBS affiliate KLAS reporter Caroline Bleakley, Turner accepted her sentence through tears.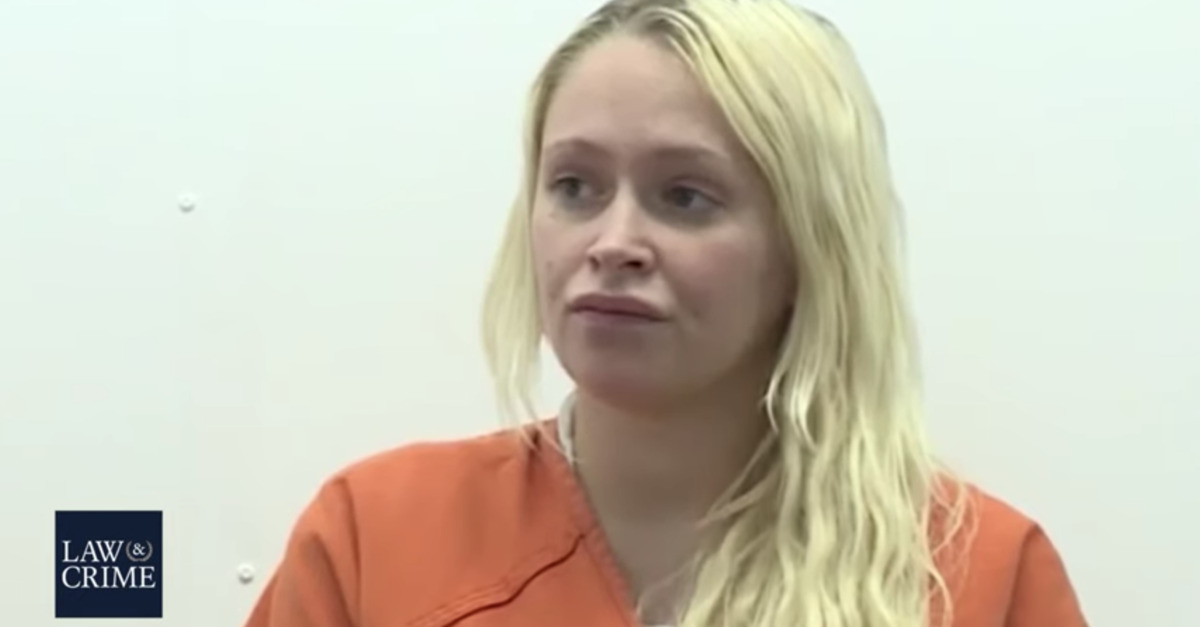 According to Clark County prosecutors, Turner and her then-boyfriend, Jon Kennison, beat 71-year-old Dr. Thomas Burchard to death and then left his body in the trunk of Turner's car on the outskirts of Lake Mead. Kennison previously pleaded guilty and was sentenced to 18 to 45 years in prison. A former roommate of the couple, Diana Nicole Pena, was previously charged with murder in the case but pleaded guilty to one charge of accessory to murder in June 2019, insisting she had nothing to do with the bludgeoning itself.
Pena would later tell law enforcement that Turner and Burchard got into an altercation after Turner became "upset about photos and messages on the doctor's phone," according to Las Vegas NBC affiliate KSNV. Then, she said, she saw Kennison raise a bat – but didn't see it connect with the victim. The roommate suggested Turner egged the violence on. Pena also said she later saw Kennison wrestling with the doctor – and that she was told to help clean up the scene of the crime after the fact.
Turner was the first to be arrested, in late March 2019, followed by Kennison the next month.
According to the Las Vegas Metropolitan Police Department, Burchard and Turner had a relationship with the older man whereby he paid the rent on a home she shared with her mother in Salinas, California. But, eventually, the rent checks stopped coming.
But then the payments started up again. At the time of his death, Burchard paid the rent on the Sin City house where Turner, Kennison, and Pena lived.
Judy Earp, Burchard's girlfriend for some 17 years, said her then-partner spent upwards of $300,000 on the model over the course of several years, and described Turner "as evil as Charles Manson" in comments to Las Vegas ABC affiliate KTNV.
"The last conversation I had with him, he had to go to Las Vegas to check things out because she was a compulsive liar," the grieving woman told the TV station.
Earp first reported Burchard missing when he failed to get off a flight returning from Las Vegas in March 2019. Days later, he was found inside the trunk of Turner's blue Mercedes-Benz C300.
The car, located on Silver State Route 147, was reported to authorities by a man driving through the area with his children because it was parked alone with a rock thrown through one of the windows. As investigators inventoried the car, however, the psychiatrist's body was found stuffed inside the trunk. According to police, Burchard had been bludgeoned to death by some kind of a blunt instrument.
Burchard was a well-known child psychiatrist. He often entertained his patients with magic tricks. After 40 years, he went on semi-retirement by switching to a 4-day workweek so that his patients would still have the care they needed. He often sent money to women he met online, according to Boston.com, a sticking point in his 2001 divorce.
"He was always helping people," Earp told The Californian after Turner was first arrested. "Anybody with a sad story, you know. Some people took advantage of that."
[image via screengrab/Law&Crime Network]
Have a tip we should know? [email protected]