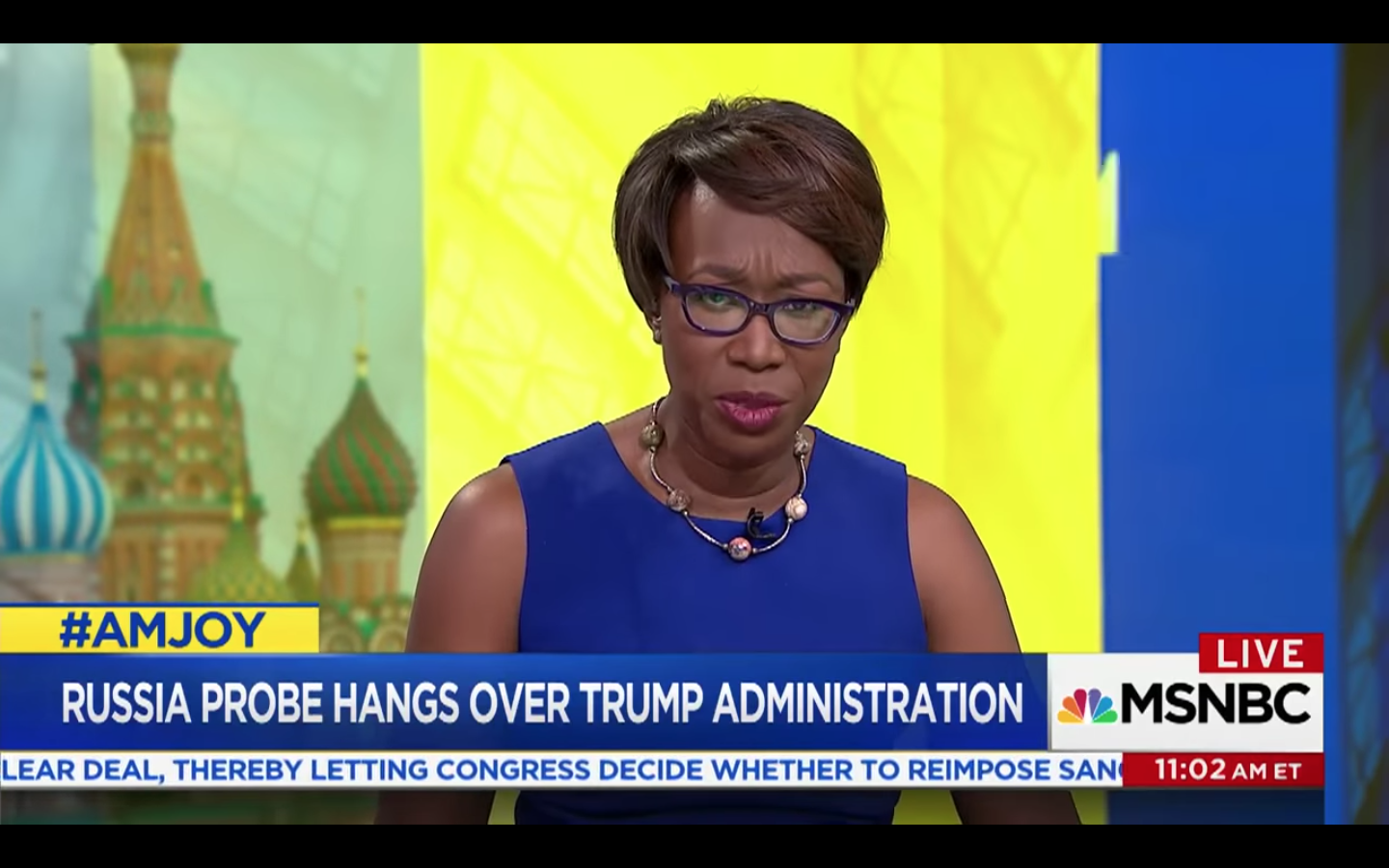 The Russian trolls indicted by Robert Mueller last Friday had one political pundit they favored above all others: liberal MSNBC host Joy-Ann Reid.
Much hay has been made of Russian troll support for various U.S. political figures—such as then-candidate Donald Trump, who received the lion's share of retweets from the Saint Petersburg-based troll farm during the 2016 election.
A compendium of those tweets put together by NBC News shows that Trump's verified Twitter account (@realDonaldTrump) received 578 such retweets from the Olgino Trolls over the course of the 2016 election cycle.
That's a hefty number and the media response has been more or less commensurate.
Oppositely, an arguably inordinate amount of media attention has focused on the literally dozens of retweets gifted to Bernie Sanders' official Senate account (@SenSanders) by the so-called kremlebots.
In sum, Sanders received 27 such retweets from the Russia-based trolls across all of 2016. In turn, multiple mainstream media headlines did some heavy lifting in an apparent bid to balance things out.
Vox went with: "Donald Trump, Bernie Sanders, and Jill Stein all appear to have been helped by Russian election interference." Meanwhile, Politico chose, "Sanders silent on claim that Russians backed him in 2016. And, USA Today went with, "Indictment: Russia also helped Bernie Sanders, Jill Stein in election." 
And so on.
Reports of the Sanders'-specific trolling immediately led to re-hashing the 2016 Democratic presidential primary across various social media platforms. Sanders' harshest critics, like Hillary Clinton aficionado Wom Tatson, leapt at the opportunity to cast aspersions about what Sanders knew and when.
Somewhat lost in the flood of recriminations, however, was news that the Russian trolls favored one political pundit far in excess of their support for Sanders—and roughly half as much as Donald Trump.
(Of course, Sanders and Trump are explicitly mentioned in Mueller's indictment. Reid is not. This could explain some of the media coverage.)
According to an analysis of the raw data by Law&Crime, Joy-Ann Reid–recently and glowingly profiled as a heroine of the #Resistance by the New York Times–received some 267 total retweets by the private sector Russian troll brigade.
The next closest pundit favored by the Russian trolls was Sean Hannity–who received only a handful of their retweets during the 2016 election.
Was Reid aware of her Cyrillic-tinged media boosting? Did Reid herself receive payment for her Russian troll-favored work? Both circumstances are highly unlikely, but certainly worth exploring if the Russian links and interference are as serious as most liberals–Reid herself among them–contend. In any event, these questions are worth asking out loud.
Reid's signal-boosting care of the Facebook bear is slightly ironic.
Reid, the host of AM Joy has long been one of the most vociferous Russiagaters and shows no signs of stopping. On Sunday, she tweeted, "Russia has played this game before — pretending to empathize with Black Americans' plight as a way of playing them and stripping them of their rights. The Russian government is not our friend — NONE of us." Reid was also heavily mocked after she tweeted that Russia is still communist in 2016–it is/was not.
In fact, Joy-Ann Reid has made somewhat of a sport out of criticizing Sanders' over the Russian issue in particular. Last year, she criticized Sanders and his supporters for repeating claims of Democratic National Committee fraud as little more than a Russian plot.
All in all, Reid was elevated by Russian trolls above Sanders by a ratio of roughly five-to-one.
[image via screengrab/MSNBC]
Follow Colin Kalmbacher on Twitter: @colinkalmbacher
Have a tip we should know? [email protected]