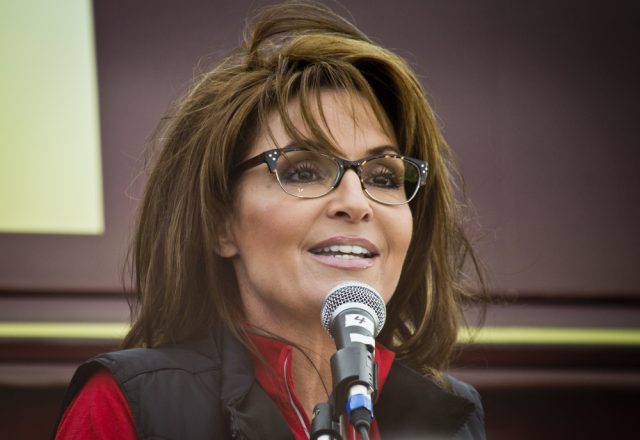 The New York Times is hoping to get a defamation lawsuit brought against them by Sarah Palin to be dismissed, but the judge on the case isn't being so quick to say yes or no to the request. The Times' motion for summary judgment claims that even if Palin's factual allegations are true, the law is on the side of the newspaper.
Judge Jed Rakoff handed down an order on Thursday saying that before he decides whether or not to grant the motion, he wants to hear from the author of the editorial in question. Palin's lawsuit claims that a Times editorial from June 14 made a false implication that actions she took were linked to the shooting of Rep. Gabby Giffords in 2011. The Times issued a correction and an apology, but Palin wasn't satisfied with this, opting to move forward with a libel lawsuit.
In order for a public figure to prove a defamation case, they need to show 1) a statement made about them was false, 2) it was made to a third party (the Times readership certainly counts), 3) it was damaging, and 4) it was made with actual malice (this last element only applies to public figures).
The key issue of law, Rakoff said, is that last one, whether the author or authors of the Times piece acted with "actual malice." Actual malice doesn't mean malicious intent, rather, it means that if the statements were indeed false and damaging, the author also must have acted with knowledge that the statements were false, or with reckless disregard for whether they were true or not.
Palin claims that the Times certainly knew that what they published about her was false, because they themselves had previously published pieces that contradict what the editorial said. But Judge Rakoff wasn't quick to act based on that information itself. While he admitted, "This is information peculiarly within the knowledge of
[the Times], that doesn't mean that the individual person (or people) who wrote this specific editorial were aware of those prior articles.
In order to get to the bottom of this, Rakoff ordered the author (or authors) to show up for a hearing on August 16 to answer questions. First, the Times' attorney will get up to 30 minutes to question each person, then Palin's lawyer will have an opportunity to cross-examine them for up to 45 minutes. The Times lawyer would then have 15 minutes to ask further questions, if they so choose. Rakoff himself will also be able to question anyone who testifies
The story does not bear a byline for any specific writer, rather the piece is attributed to "The Editorial Board." The Times said that they will send James Bennet, the paper's editorial page editor, to testify at the hearing.
Palin v NYTimes Order by LawNewz on Scribd
[Image via Andrew F. Kazmierski/Shutterstock]
Have a tip we should know? [email protected]