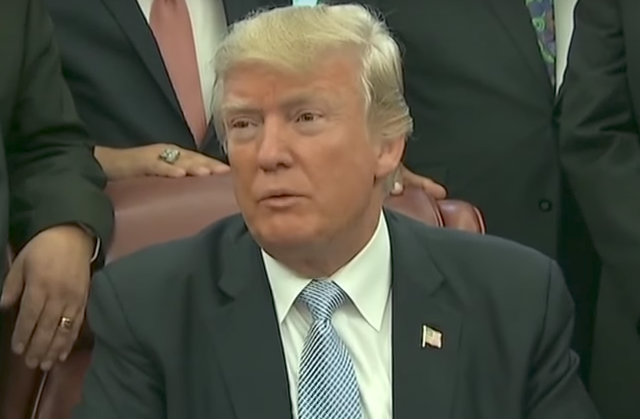 What could have been significant hearings before Congress ended up being nothing, due to major players in President Donald Trump's administration keeping quiet. As it turns out, though, even tight lips can sink a presidential ship. Attorney General Jeff Sessions and former Trump adviser Steve Bannon are two notable examples of high-level officials who refused to answer questions about their conversation with Trump, questionably citing the protection of executive privilege. That privilege is meant to protect the president from having to reveal sensitive information discussed in conversation. As it turns out, however, there's a history of presidents relying on this privilege to keep potentially incriminating information under wraps, and it's not good.
The last president to be impeached was Bill Clinton. While we all remember that perjury was the main charge against Clinton, after he had allegedly lied under oath about his affair with Monica Lewinsky, Independent Counsel Ken Starr was also concerned about Clinton's use of executive privilege. When Starr outlined 11 potential charges against Clinton in his impeachment referral, that abuse of power was included, as noted by Georgetown Law Professor and former U.S. Acting Solicitor General Neal Katyal. As Katyal recalled in a 2000 publication, Starr told Congress that Clinton's misuse of executive privilege was reminiscent of President Richard Nixon.
As Katyal said in a tweet on Thursday, the articles of impeachment that were drafted against Nixon included abuse of executive privilege and wrongfully withholding testimony.
Worth remembering that the 3rd Article of Nixon's impeachment was abuse of Executive Privilege and withholding testimony from Congress by falsely claiming Privilege. Trump must explain why&release memos' justific. Time will tell if we are in for a repeat. https://t.co/UYkcGEJakB

— Neal Katyal (@neal_katyal) January 18, 2018
Indeed, the third article of impeachment said:
In refusing to produce these papers and things Richard M. Nixon, substituting his judgment as to what materials were necessary for the inquiry, interposed the powers of the Presidency against the the lawful subpoenas of the House of Representatives….
Nixon resigned before he was impeached, but the fact that improperly using his office to hide evidence was one of the charges, and that President Clinton had a similar issue should be a warning to President Trump. In October, Sessions was blasted for citing executive privilege on behalf of Trump, without providing a legal basis for it. More recently, Bannon refused to answer questions, citing what Rep. Jim Hines (D-Connecticut) called a "remarkably broad definition of executive privilege." George Washington University Law Professor Jonathan Turley noted that not only was the privilege not invoked in advance, there was no basis for it. The White House was rumored to have instructed Bannon to keep quiet, so if he improperly used executive privilege at Trump's request, that could be bad for the president.
A lot of the questions that people have refused to answer have had to do with conversations that President Trump may or may not have had regarding his decision to fire former FBI Director James Comey. The circumstances surrounding Comey's termination — which was within Trump's power as president — led to Special Counsel Robert Mueller investigating Trump for obstruction of justice. Ironically, history shows that trying to use executive privilege to withhold that information could itself lead to charges.
[Image via CNN screengrab]
Have a tip we should know? [email protected]