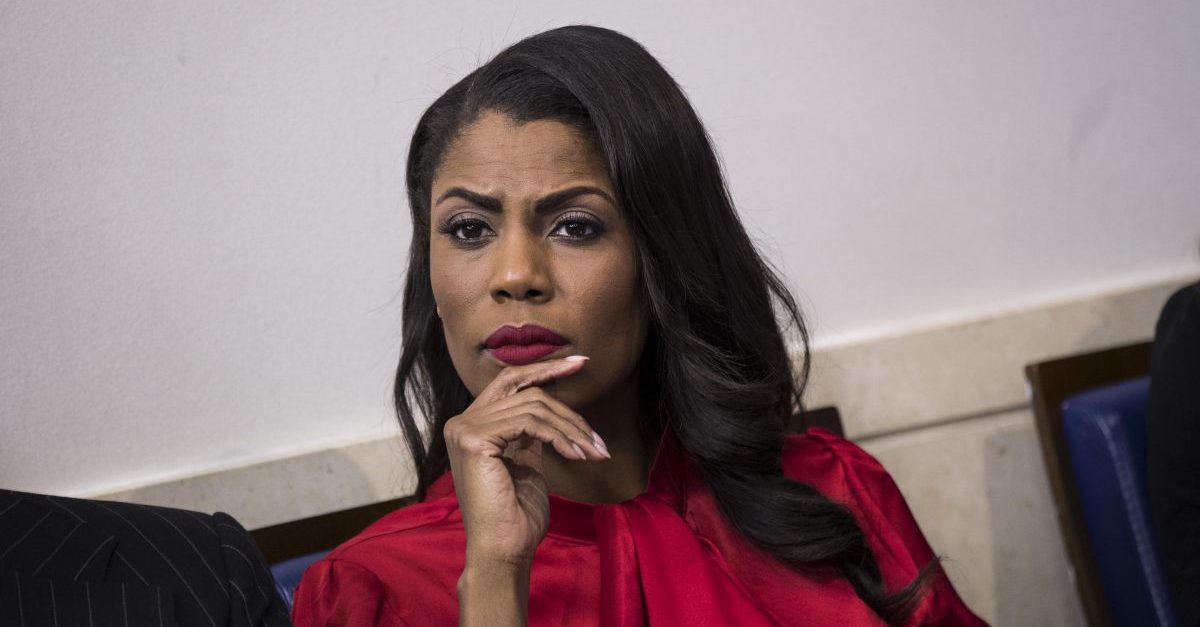 One thing that Omarosa Manigault-Newman has successfully accomplished with the release of secret recordings she made at the White House and promotion of her new book is that everyone is talking about Omarosa. She may find that not all publicity is good publicity, though, if recent responses to her claims are any indication. While Law&Crime already discussed how Omarosa's recordings likely won't result in legal trouble, certain statements she's made–in print and otherwise–may be another story.
Some of Omarosa's more outlandish claims in her book have already been disputed, and it is possible she could face legal action because of them. Pollster Frank Luntz tweeted Sunday that despite being cited as overhearing President Donald Trump use the N-word, Luntz never heard Trump say such a thing, and Omarosa never checked with him to verify the information.
I'm in @Omarosa's book on page 149. She claims to have heard from someone who heard from me that I heard Trump use the N-word.

Not only is this flat-out false (I've never heard such a thing), but Omarosa didn't even make an effort to call or email me to verify. Very shoddy work.

— Frank Luntz (@FrankLuntz) August 10, 2018
Another claim is that she once saw Trump take a note from former attorney Michael Cohen and eat it, purportedly to get rid of evidence. Cohen, who has shown no love for the president lately, said this never happened and that he was "shocked anyone would take this seriously."
LTo the many dozens of #journalists who called me, questioning @OMAROSA claim in her new book that @POTUS @realDonaldTrump took a note from me, put it in his mouth and ate it…I saw NO such thing and am shocked anyone would take this seriously.

— Michael Cohen (@MichaelCohen212) August 12, 2018
Of course, false statements can result in lawsuits if they're defamatory. While Luntz and Cohen aren't particularly harmed by the above statements, they certainly appear to be defamatory towards the president. In order for a public figure to prove a defamation case, they have to show that a statement was 1) false, 2) made to a third party, 3) damaging, and 4) made with "actual malice," which means that the person making the statement either knew it was false or had reckless disregard for whether it was true.
The part about Trump eating a note could fit the bill if Omarosa was claiming to have firsthand knowledge of the alleged incident. Of course, the damage may depend on the contents of the note. If it was something incriminating or some other piece of potential evidence, it could speak to either possible criminal activity or Trump's job performance (both of which are ground in many jurisdictions as defamation per se, with no requirement to prove quantifiable harm). Otherwise, it's really just weird more than it is damaging.
The statement about the racial slur, on the other hand, would be far more damaging, but the actual malice element could be tougher to prove. Omorosa reportedly claimed that someone told her that Luntz told them about the remark. Even if Omarosa didn't call Luntz to verify, if she trusted the person who told her about it, and reasonably believed it to be true, that wouldn't be actual malice.
Of course, those aren't the only controversial statements that Omarosa has made, either in print or on television. For instance, she claimed on MSNBC that former White House Communications Director Hope Hicks and others prepped Trump for an interview with Lester Holt by telling him to justify the firing of FBI Director James Comey by using the Justice Department's recommendation, only to be surprised when Trump said in the interview it had to do with the Russia probe.
When asked if Trump was being prepped to lie, Omarosa said, "He was being prepped by Hope Hicks and the comms team to say that the DOJ had come up with this memo so that they could justify the firing of Comey." She added, "They prep him to lie every day," and singled out Hicks.
If that claim is true, Omarosa would have nothing to worry about. If it isn't, Hicks could very well have a case. Omarosa spoke as if she had firsthand knowledge, so lobbing out a false statement would likely be the result of actual malice because she would know it's not true. Also, it would be damaging as it accuses her of misconduct in her job.
Meanwhile, Omarosa's book sales aren't seeing any damage. It doesn't come out until Tuesday and is already Amazon's #8 bestseller.
[Image via Drew Angerer/Getty Images]
Have a tip we should know? [email protected]