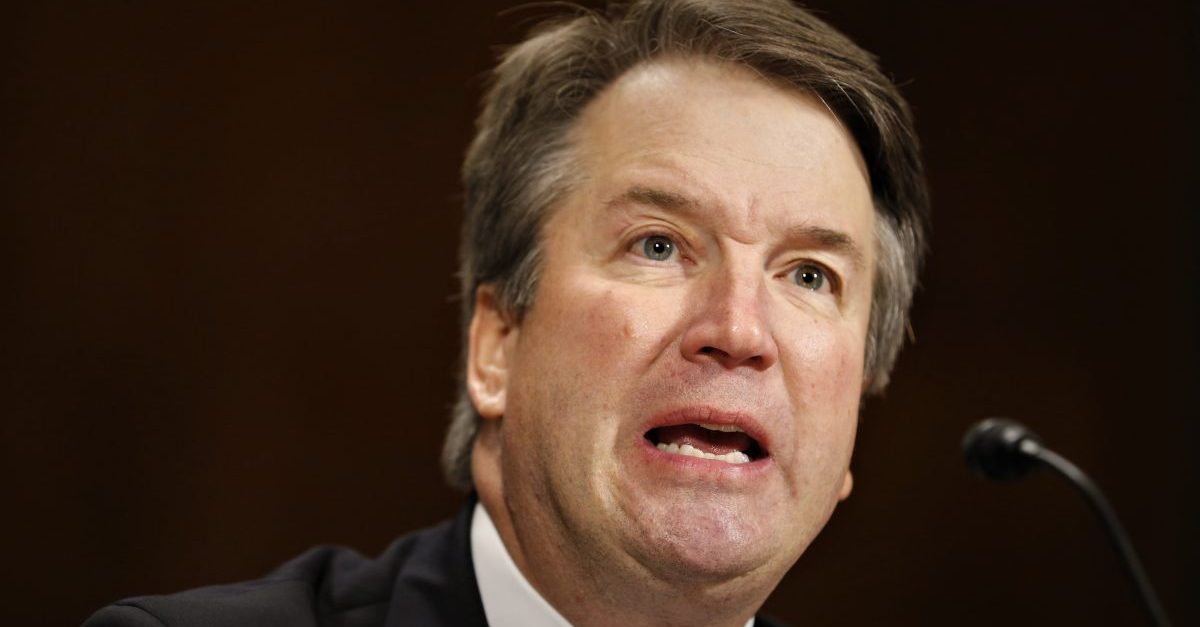 Now that we're interviewing everyone from Brett Kavanaugh's drinking buddies to the cafeteria lunch lady, calls are beginning to resound to prosecute Kavanaugh for perjury. Would such a prosecution be politically-motivated? Of course. Does that mean it couldn't happen? Not necessarily.
How much Kavanaugh perjury is too much Kavanaugh perjury?@TheLastWord 10pm

— Lawrence O'Donnell (@Lawrence) October 2, 2018
— Ryan Grim (@ryangrim) September 29, 2018
Bernie Sanders calls for FBI to investigate if Kavanaugh committed perjury during hearing https://t.co/A9aCTG2TyQ pic.twitter.com/d8sk9tZIfy

— The Hill (@thehill) September 29, 2018
Let's take a look at how such a hypothetical prosecution would work. The federal perjury statute is 18 U.S. Code § 1621 – and it says:
Whoever—

(1)having taken an oath before a competent tribunal, officer, or person, in any case in which a law of the United States authorizes an oath to be administered, that he will testify, declare, depose, or certify truly, or that any written testimony, declaration, deposition, or certificate by him subscribed, is true, willfully and contrary to such oath states or subscribes any material matter which he does not believe to be true; or

(2)in any declaration, certificate, verification, or statement under penalty of perjury as permitted under section 1746 of title 28, United States Code, willfully subscribes as true any material matter which he does not believe to be true;

is guilty of perjury and shall, except as otherwise expressly provided by law, be fined under this title or imprisoned not more than five years, or both. This section is applicable whether the statement or subscription is made within or without the United States.
Basically, these sections mean that when a person provides sworn statements, he or she cannot legally tell any purposeful lies about pertinent information.
Does this mean that every word Kavanaugh uttered to the Senate Judiciary Committee must be unequivocally proven to be true? Nope. While the committee certainly constitutes "a competent tribunal," Kavanaugh would likely have some viable defenses for the other necessary elements.
It's unclear whether the statements in question constitute "any material matter."
Does information about a Supreme Court nominee's decades-old party habits and yearbook quotes count as "material matters"? How about the circumstances of his Yale admission? Plenty of folks would think not. Of course, given the context of Dr. Christine Blasey Ford's accusations, a strong counterargument for materiality exists and could prevail – but such an outcome is hardly a given. Sen. Lindsey Graham (R-S.C.), with his Judiciary Committee hissy-fit, already provided us a window into his thinking – and he sure doesn't believe any of this is "material;" others are likely to fall in line behind him.
The generally-accepted legal definition of "material" is "relevant and goes to the substantial matters in dispute, or has a legitimate and effective influence or bearing on the decision of the case." Given that "the case" at hand for the Kavanaugh hearings is his general fitness as a Supreme Court justice, he could (and likely would) argue that these relatively minor details about his teenage life do not sufficiently relate to the overall purpose of the hearing. Such a conclusion is not patently unreasonable; teenage partying is not a per se disqualification for a judgeship (or even a presidency, so says George W. Bush), particularly when the nominee has already been serving as a federal judge to some acclaim.
Obviously, many could and would disagree, believing that misconduct of any kind and at any time would disqualify a person from holding a lifetime appointment to one of the highest positions in government. The clear differences of opinion between "this information is critical and goes to the core of Kavanaugh's fitness," and "this doesn't matter at all," mean one thing: materiality is unclear at best. And when we're talking criminal prosecution, lack of clarity usually gets resolved in favor of the accused.
But there's an even larger escape hatch for a Kavanaugh defense to a perjury charge: "wilfull."
In many perjury cases, a discrepancy between an accused's perception of particular information and the actual truth behind that information is key. Witnesses aren't expected to be perfect – they're just expected to be honest. Kavanaugh's statements about drinking, blacking out, college admissions, or even sexual assault could only constitute perjury if he knowingly swore to a falsehood. If, on the other hand, the discrepancy were the product of faulty memory, lack of knowledge, a mistake, or even some kind of psychological break from reality– it would not constitute the kind of purposeful lie necessary to uphold a perjury charge. Perjury is a specific-intent crime, which requires the purposeful giving of misinformation under oath.   And whether committed by a SCOTUS nominee or a jailhouse snitch – it is a criminal matter that requires proof beyond a reasonable doubt. Should Kavanaugh find himself staring down the barrel of a federal perjury charge, lapses in his memory – derived from whatever source – could constitute a workable defense.
Does any of this mean that catching Kavanaugh in a lie would be NBD? Not at all.  A falsehood, material or not, purposeful or not, provided as testimony before the Senate is seriously troubling. Such testimony provided by a potential Supreme Court justice may well be disqualifying. But there is a great distance between behavior that disqualifies a person from a lifetime appointment and that which constitutes a federal crime.
[Image via Michael Reynolds-Pool/Getty Images]
Have a tip we should know? [email protected]
Elura Nanos - Columnist & Trial Analyst, Law & Crime; CEO Lawyer Up