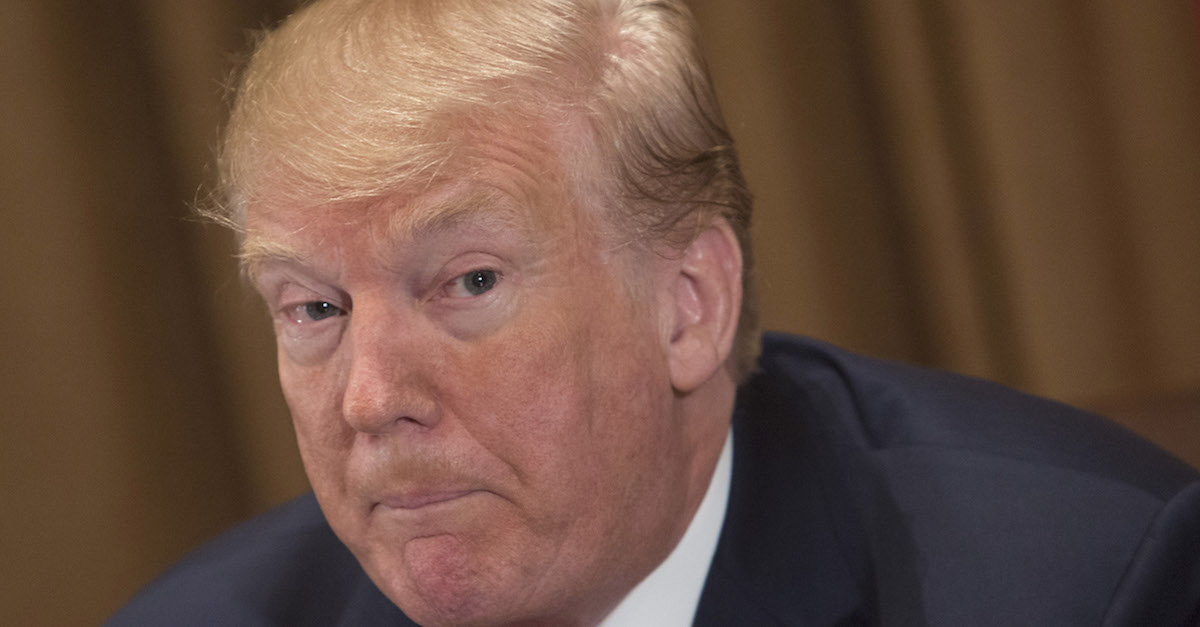 President Donald Trump's longtime attorney Jay Goldberg recently spoke with the Wall Street Journal to dish on various issues surrounding the Michael Cohen investigation.
So far, most press coverage has centered around Goldberg's prediction that Cohen is likely to "flip" on Trump–one assumption undergirded by another: that Trump committed crimes Cohen has evidence of or was also involved in. Law&Crime's Ronn Blitzer previously explored Cohen's potential flip here.
But one under-reported aspect of Goldberg's sit-down chat with the WSJ could spell trouble for Trump as well. Roughly halfway through the Wednesday report is the following sentence-paragraph:
Prompted by the president for his advice, [Goldberg] also said he recommended Mr. Trump fire Rod Rosenstein, the deputy attorney general who appointed Mr. Mueller.
An additional detail in the WSJ's story calls puts Goldberg's advice to fire Rosenstein into a somewhat convoluted context. The report notes:
Goldberg said the volume of correspondence taken and the potential pressure the government can bring to bear on Mr. Cohen to testify puts the president in more potential peril from the Cohen matter than from Special Counsel Robert Mueller's investigation.
These on-the-record admissions–that the Southern District's Robert Khuzami's Cohen investigation is probably more dangerous to Trump than Mueller's Russiagate investigation–appear to jibe well with anonymous reporting by the New York Times on the same subject last week. The Times' report from April 13 notes:
President Trump's advisers have concluded that a wide-ranging corruption investigation into his personal lawyer poses a greater and more imminent threat to the president than even the Special Counsel's investigation, according to several people close to Mr. Trump.
Both stories, when taken together, suggest Goldberg and other members of Trump's inner circle are huddling for a strategy to nip the Cohen investigation in the bud. So, the prescription to fire Rosenstein is somewhat befuddling because, by Goldberg's own account, Mueller isn't much of a threat.
For this reason, some longtime legal observers have wondered whether the suggested Rosenstein firing is actually part of the strategy to protect Trump from the Cohen fallout. National security and civil liberties journalist Marcy Wheeler noted:
First, clearly Goldberg wants this out, even the details (like that he thinks Cohen might wear a wire) designed to make Trump go nuts. This, then, is presumably another example of a Trump associate trying to speak to him through the press…That said, the story will make the legal risk of firing Rosenstein still greater, because it will make the context of all this clear: that firing Rosenstein would be an attempt to prevent Cohen from being charged, which would have the effect of exposing Trump to legal risk.
Notice the reference to increasing Trump's legal risk here.
In other words, Goldberg telegraphed his ideas about Trump's strategy going forward–to three reporters working for the Wall Street Journal. Part of that strategy appears to be frustrating the ongoing Cohen corruption investigation. And to do that, Goldberg apparently suggested firing Rosenstein–presumably because as deputy attorney general, Rosenstein has some authority over Khuzami (the amount of such authority and who necessarily answers to who is actively in dispute throughout the Department of Justice at present and similar confusion is likely present here as well).
But as Wheeler also noted in a later tweet, such telegraphing to the press is essentially an admission that one of Trump's attorneys, at least, has suggested obstruction as a viable strategy going forward.
Reup: The Fire Rosenstein Squad among Trump's Buddieshttps://t.co/Xjk4uCe3Qf

For some reason Trump's lawyer buddy decided to tell WSJ on the record about non-privileged discussions on legal strategy to obstruct.

🤣

— emptywheel (@emptywheel) April 19, 2018
Here, the problem for Trump would be found at 18 U.S.C. §1503, which notes, in relevant part, "Whoever corruptly, or by threats or force, or by any threatening letter or communication, endeavors to influence, intimidate, or impede any grand or petit juror, or officer in or of any court of the United States…shall be punished." This is one of many federal obstruction of justice statutes and the most likely to implicate the behavior described above.
To wit, if Donald Trump took Jay Goldberg's advice to fire Rod Rosenstein in order to clean up the Michael Cohen mess–and if it could be credibly argued by prosecutors that Trump fired Rosenstein on Goldberg's advice–then the argument for obstruction of justice by corrupt interference into the federal Cohen investigation is a potentially rare and easy call.
[image via Chris Kleponis-Pool/Getty Images]
Follow Colin Kalmbacher on Twitter: @colinkalmbacher
Have a tip we should know? [email protected]