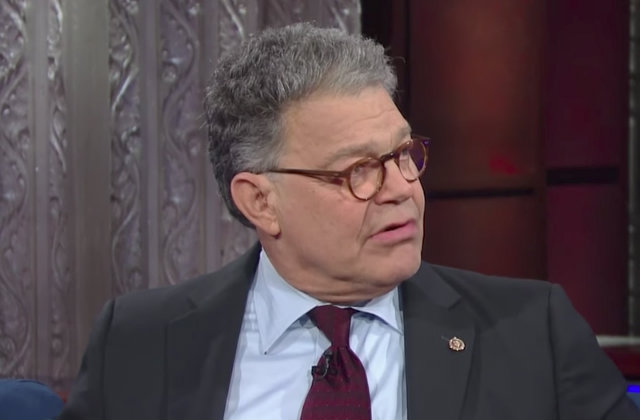 A second woman is now accusing Senator Al Franken (D-Minnesota) of sexual misconduct, but don't expect much to come from it.
Lindsay Menz told CNN that in 2010 she and her husband were at a state fair in Minnesota that Franken attended. During a photo-op, Menz says Franken pulled her close to him, and "he put his hand full-fledged on my rear" for several seconds. "It was wrapped tightly around my butt cheek," she said, all while her husband was taking their picture.
Menz isn't the first woman to make an allegation against Franken. That would be Leeann Tweeden, who claims Franken badgered her into rehearsing a kiss for a sketch during a USO tour in 2006, before taking a picture with his hands over her breasts while she was sleeping. Still, this is the first allegation of Franken doing something like this while in office. Franken has been a U.S. Senator since 2009.
Franken apologized for the Tweeden incident but has yet to respond to Menz's allegations. Even if he admits to the latest groping charge, however, don't expect him to face any criminal repercussions for it.
For starters, Minnesota's laws don't count this alleged activity as criminal sexual conduct. Criminal Sexual Conduct in the Fifth Degree is defined as when someone "engages in nonconsensual sexual contact," but the statute specifically says this "does not include the intentional touching of the clothing covering the immediate area of the buttocks."
Even if the alleged behavior was covered by the statute, however, it would only be a misdemeanor, which carries a three-year statute of limitations (for certain more serious offenses, the statute of limitations is nine years, and in others there is none). Since the latest allegation is seven years old, it would be barred from criminal prosecution.
Franken would also be protected from a civil lawsuit for this, as the Minnesota statute of limitations for civil cases related to sexual abuse is six years for victims who were age 18 or older at the time of the offense.
What about consequences within the Senate, you might be asking. Well, Franken himself agreed to an ethics investigation of the Tweeden matter, and there could certainly be an investigation of Menz's allegations. Still, as George Washington University Law Professor Jonathan Turley wrote in a recent blog post, that's unlikely to result in anything substantial, as congressional ethics rules do more to protect members than penalize them.
"It is the equivalent to volunteering to be chased by a wild pack of golden retriever puppies," Turley said. "They are likely to catch you but hardly likely to devour you."
Even if Franken receives a public censure, he'd still have voting power, Turley noted. While Franken could end up being removed from the committees on which he serves (including the Senate Judiciary Committee), that would likely be the worst of it. Technically, the Senate has the power to expel members with a two-thirds vote, but that hasn't happened since the Civil War era.
The greatest—and most likely—consequence that Franken will face after these allegations will come at the polls, but Franken still has a few years left on his current term, which ends in January 2021. Any grander political aspirations, however, may have to be laid to rest.
[Image via CBS screengrab]
Have a tip we should know? [email protected]