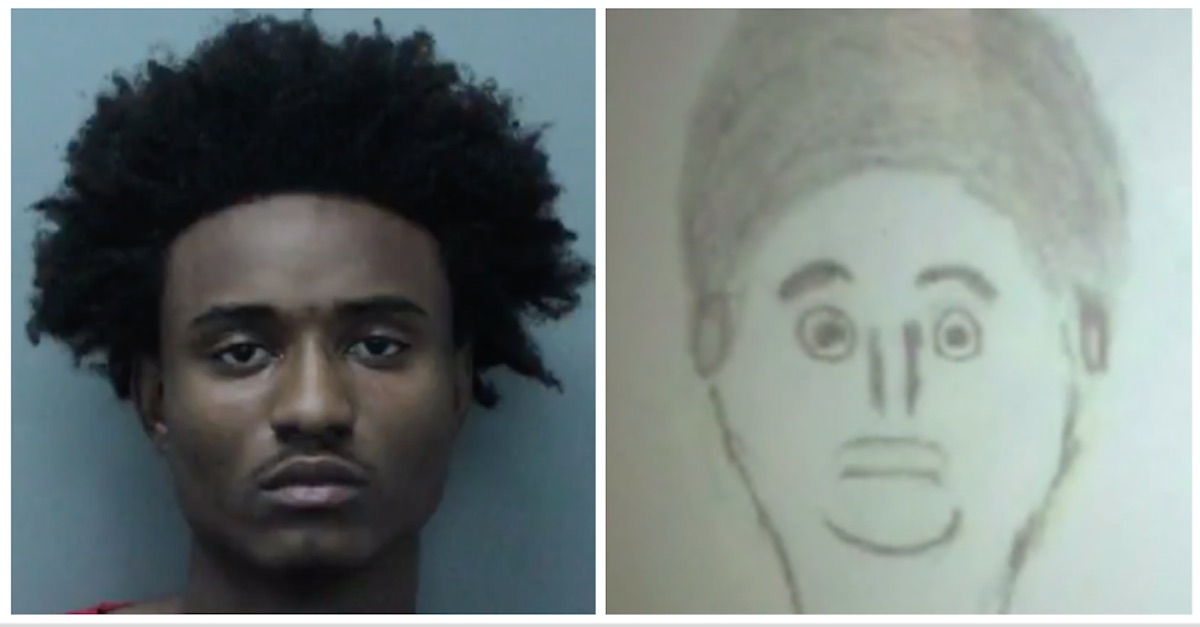 Deandre Charles, who memorably went viral in 2015 because the sketch police released was a candidate for worst of all time, has filed a lawsuit. He alleges that police had evidence that he didn't murder a rabbi but that prosecutors charged him anyway, ruining his life. The explosive claims were first reported by the Miami New-Times.
Rabbi Joseph Raskin was shot and killed on Aug. 9, 2014 in Miami. Charles, who was 14 at the time, was accused of an attempted robbery and Raskin's murder. When police announced Charles' arrest, they also introduced the sketch you can see above. It received a lot of attention online.
It was apparently drawn by a witness to the murder. Some facts about that witness are now being discussed.
Charles' lawyer James DeMiles said that his client was busted on the word of one witness who was more than 100 feet away from the crime and by an interpretation of DNA evidence that wrongfully implicated Charles in the crime.
"There was a difference here between a DNA 'match' and just a 'probability of inclusion,'" he said. "When you're talking about 'inclusion,' you're talking about it being a probability of multiple people. What they thought might have been a gene linking the DNA to Deandre might have just been a gene for 'curly hair,' for example."
Charles' family maintained that he wasn't near the scene of the murder that day. "One hundred percent certain he didn't do this. The whole family was home when this incident occurred," Willis Archibald said.
It was also said that Charles didn't have his cell phone on his person, but someone else did. Charles' phone was traced to the scene.
Most jarringly, DeMiles claims that police detective Michael Brajdic had evidence from the beginning that would have exonerated Charles:
According to the suit, Brajdic, the police detective, had ample evidence that a separate group of teen boys was involved in the killing. He was repeatedly told that Charles was actually at his house with his family when the killing occurred.

In fact, Charles's family now says that, mere days after the killing, a confidential informant identified four men who were likely involved in the killing and tangentially knew Charles. Another civilian named two of the same men. Police interviewed one of those suspects in April 2015. The man, listed as "J.S." in the lawsuit, basically confessed. J.S. said that he and three others who had been named by the tipsters were at the scene of the murder when Raskin was killed. Firearms evidence also linked one of those men to the killing, the suit says.
DeMiles said that detective "really dropped the ball."
"This evidence was in the detective's possession and control the whole time," he said. Prosecutors believed Brajdic's assessment of the case and moved forward with the indictment, resulting in Charles doing jail time for nearly a year.
But state prosecutors dropped charges against Charles in 2017. Now Charles is suing for, effectively, having his life and reputation ruined by being wrongfully accused of Raskin's murder.
No one else has been arrested for the killing.
The Miami-Dade Police Department and the State Attorney's Office have not yet commented on the lawsuit.
[Images via Miami-Dade County]
Have a tip we should know? [email protected]