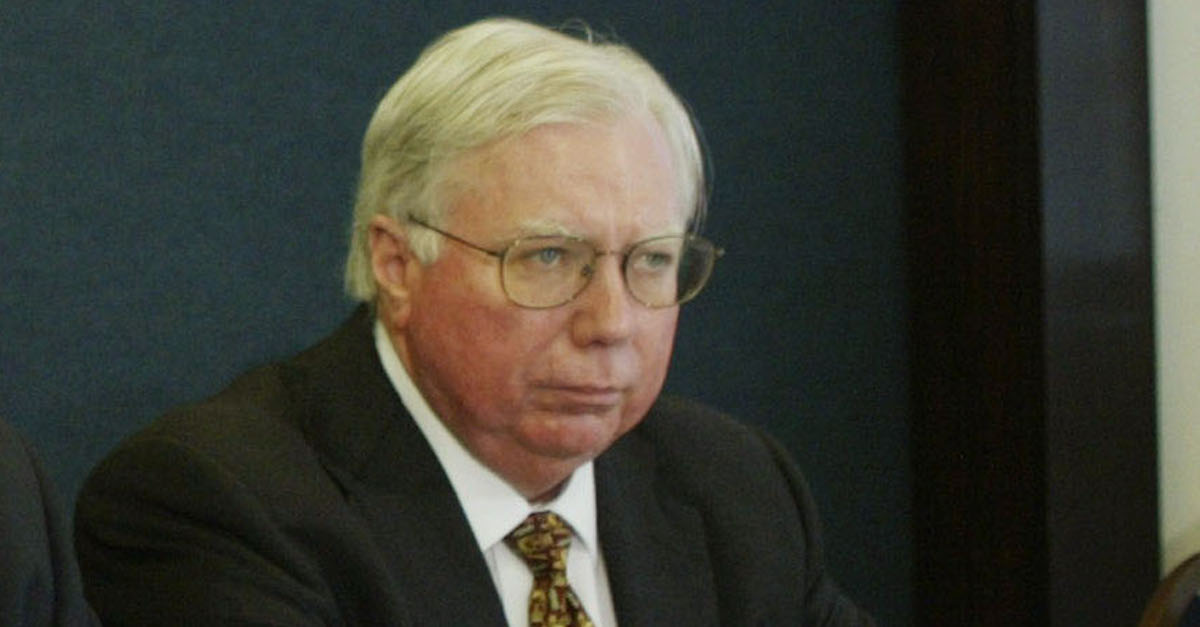 Right-wing author Jerome Corsi filed an amended complaint Sunday night in his case against Special Counsel Robert Mueller and several government agencies. The new complaint keeps the allegations from the original one, and makes quite a few notable additions. Here are the highlights of what's new.
1. Corsi accuses Mueller of being the source of the same BuzzFeed report that he then refuted
Corsi, often referred to as a conspiracy theorist, put forth his take on the recent BuzzFeed report that said Mueller's office had evidence that President Donald Trump directed Michael Cohen to lie to Congress. He claims in his new complaint that Mueller, whose office issued a rare statement saying BuzzFeed's report was inaccurate, was actually a source for the report. Then, Corsi claims, Mueller backtracked to cover up his own leak.
"After calls for a U.S. Justice Department investigation of this leak in particular … Defendant Mueller, to try to cover his illegal tracks and head off a Department investigation by the Office of Professional Responsibility and Inspector General — falsely repudiated what BuzzFeed had reported were indeed leaks from the Special Counsel," the complaint says.
Law&Crime reached out to the Special Counsel's Office about this and other aspects of the lawsuit, but they declined to comment.
2. Corsi adds Jeff Bezos and the Washington Post to the lawsuit, and it has to do with InfoWars
In addition to Mueller, the Justice Department, FBI, NSA, and CIA, the amended complaint also adds Amazon CEO and Washington Post owner Jeff Bezos, the Post itself, and Post reporter Manuel Roig-Franzia as defendants.
Corsi claims that Roig-Franzia contacted him, saying that he and the Post learned from Mueller's office that Corsi had been receiving $15,000 each month from Dr. David Jones, father of InfoWars' Alex Jones. Corsi says that these payments "were characterized falsely and maliciously published as hush payments to Dr. Corsi so he would not provide 'incriminating evidence,' about Alex Jones, InfoWars and Roger Stone before Defendant Mueller and the grand jury." Roig-Franzia told Corsi that Mueller was looking into these payments, the amended complaint says.
Corsi admits to having had a business relationship with David Jones, but said that "the very next day Plaintiff Corsi learned from Dr. David Jones that he was being terminated and would no longer be receiving $15,000 per month."
Law&Crime asked Corsi's attorney Larry Klayman for details regarding the nature of this business relationship, but in an emailed response Klayman did not address this question.
Corsi claims that the reporting on his business with Jones was part of a scheme directed by Bezos. He claims that Bezos, the Post, and Roig-Franzia tortiously interfered with his business arrangement, and defamed him with false statements about it. He also claims that Bezos did this "working in concert with Defendant Mueller" and the government agencies that he names as defendants.
Klayman said in a statmement that "the Special Counsel in this coordinated effort with the new Defendants Jeff Bezos and his WaPo reporter Manuel Roig-Franzia, have 'upped the ante,'" in their alleged "coercion and blackmail" of Corsi.
Klayman said that Bezos, Roig-Franzia, and the Post, "along with Mueller and the other Defendants, will be held legally accountable for their despicable and illegal acts."
Law&Crime reached out for comments from WaPo, Roig-Franzia, and Bezos, but we have not received any response.
3. Corsi claims Mueller is trying to ruin his book sales
While Corsi claimed that Bezos and Mueller were working together as far as the Post's reporting was concerned, he also claims that Mueller was trying to put pressure on Bezos' other company, Amazon. Corsi states that his book, Silent No More: How I Became a Political Prisoner of Mueller's 'Witch Hunt' is available on Amazon.com, and that Mueller threatened Amazon with a subpoena for a pre-publication copy of the book.
Corsi claims that Mueller is doing this to financially cripple him so he can't continue his legal battles.
"This was done intentionally by Defendants to interfere with Plaintiff's existing business relationships with Amazon and Post Hill Press in order to 'intimidate' the publisher and distributor with the intent to get them to stop publishing Plaintiff's book," the complaint says, "and to harm Dr. Corsi financially so he will not have the necessary funds and resources to defend himself against the illegal and unconstitutional actions of the Special Counsel."
Amazon has not responded to Law&Crime's request for comment on this.
4. Corsi details some of the alleged surveillance he claims Mueller is carrying out
The original complaint accused Mueller, the DOJ, FBI, NSA, and CIA of "conducting illegal and unconstitutional surveillance." The amended complaint gives examples of these allegations, saying that the government has been "intercepting Plaintiff's text and other messages without probable cause or a warrant" to "illegally obtain information about and interrogate Plaintiff Corsi and his stepson, Andrew Stettner[.]"
Corsi recently appeared on the Fox Business Network, where he said that Stettner received a subpoena to discuss text messages he sent to Corsi about a computer that had supposedly been "scrubbed." Corsi claimed that the messages were in reference to an old computer of Corsi's that Stettner wanted to use, and that any scrubbing was not for nefarious means. Corsi even brought a hard drive that he said contains backup files into the studio, saying Mueller can look at it if he wants it.
Corsi claims in the new complaint that the government could not have identified Stettner without using illegal methods, because they don't have the same last name.
Corsi also says in the complaint that Jim Garrow, an author in Canada, used a system meant to protect Corsi's phone from surveillance, and that the system detected "evidence of repeated attempts by government authorities to intercept" his conversations.
5. Damages are increased to $1.5 billion
The massive $350 million that Corsi' original complaint sought now seems downright modest compared to what he's asking for now. With Bezos, the richest man in the world, now added to the lawsuit, Corsi is now seeking in excess of $250 million in general and compensatory damages, plus in excess of $1.35 billion in punitive damages.
Corsi first brought this lawsuit after he claimed to have ended plea negotiations with Mueller's office. As noted in the lawsuit, Corsi claimed that Mueller wanted him to provide false testimony, which he refused to do.
Corsi Amended Complaint by on Scribd
[Image via Matthew Cavanaugh/Getty Images]
Have a tip we should know? [email protected]