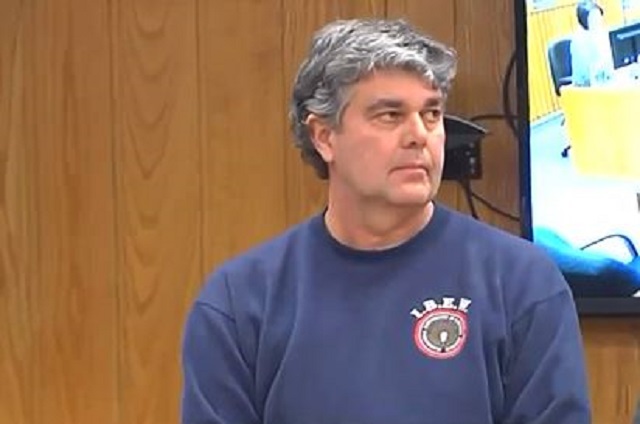 A GoFundMe page set up for the instant internet hero who attacked convicted child molester Larry Nassar has taken in quite a haul in a super short stretch of time.
During the latest in Nassar's seemingly interminable series of public sentencing hearings, now-famous dad Randall Margraves lunged at Nassar, the disgraced former USA Gymnastics and Michigan State University doctor recently sentenced to 40-175 years in prison.
While giving a victim impact statement, Margraves–father to three of Nassar's victims–grew increasingly distraught and asked Judge Janice Cunningham if she would allow him to extra-legally provide Nassar with some form of street justice likely to have included the marriage of Margraves' fists and Nassar's face. He said:
I want to ask you too, as part of the sentencing to grant me five minutes in a locked room with this demon.
Judge Cunningham, of course, declined. But Margraves pressed on, pleading for a haggle. He asked, "Could you give me one minute?" To which Cunningham replied,  "You know that I can't do that, that's not how are legal system works."
Margraves was clearly not concerned with the law as it stands and quickly bum-rushed Nassar after being shut down by the judge. As Margraves attempted to strike the man who sexually abused his daughters, courtroom officers immediately tackled the vengeful father and led him away.
Later, at a contempt hearing, Judge Cunningham gave Margraves a slap on the wrist, but paid some lip-service to the rule of law. She said, while declining to charge Margraves, "You have to understand that this is a courtroom and this is where we carry out and enforce the rules of law. We cannot and I cannot tolerate or condone vigilanteism."
The internet quickly scooped Margraves up into its collective arms, rushing to his defense, rushing into his corner with the hashtag #GiveHimAMinute, and soon after that, rushing to fill his bank account–even though he doesn't need the money for anything related to his outburst.
The threadbare fundraising page for Margraves–set up on Friday by his union brother Aaron Pangborn, according to MLive, who appeared to verify the information–simply reads:
Please help support Randall Margraves.

This is the official Go Fund Me page to help a brother and friend in need.

Thanks
As of Saturday, Margraves can look forward to at least $31,000 for his extra-legal courtroom antics.
[image via screengrab]
Follow Colin Kalmbacher on Twitter: @colinkalmbacher
Have a tip we should know? [email protected]