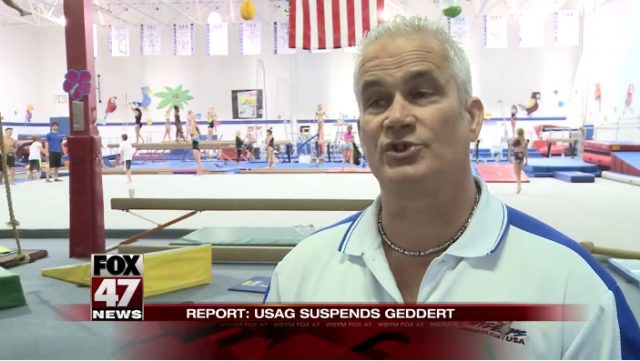 In the aftermath of Larry Nassar's much-watched sentencing hearings and multiple, lengthy sentences being handed down, investigators are casting wider nets into the culture that protected Nassar's behavior and the people who may have enabled Nassar's decades of child sexual abuse.
The Detroit Free Press reported on Tuesday that the Eaton County Sheriff's Office is "actively investigating complaints against" former USA Olympic Gymnastics coach John Geddert.
Geddert also owns the Twistars Gymnastics Club in Dimondale, Michigan and has long been tied to Nassar. The investigation, however, is not simply the result of guilt by association.
Eaton County Sheriff's Spokeswoman Jerri Nesbitt confirmed that "there are new people coming forward," with allegations against Geddert but otherwise declined to comment on the case's progress.
Similarly, Eaton County Prosecutor Doug Lloyd said he was aware of the investigation into Geddert, but had not "received anything from police" that would allow him to comment officially.
As more than a hundred victim impact statements poured in during Nassar's sentencing hearings, various women came forward to allege physical abuse at Geddert's hands as well.
So far, Geddert has remained silent in the face of such accusations. At least two previous investigations into Geddert's alleged behavior towards women have already been conducted. Those prior investigations ended in Geddert being cleared of criminal charges, according to records obtained by the Lansing State Journal.
Geddert received a considerable amount of attention in late January after an incendiary victim impact statement given by former gymnast Lindsey Lemke. She said,
To John Geddert, since you are too much of a coward to be here in court today and this week, I hope you are watching or listening to me right now. You and Larry carry a lot of the same characteristics. That's funny. You are a disgrace. You 'coached' us–your athletes who paid you thousands and thousands of dollars–by fear to control us and to purposely scare us. Well, John, you are now the one who has failed. Not us…

What a great best friend John was to Larry. For giving him an entire world where he was able to abuse so easily. You two sure have a funny meaning of "friendship." You, John Geddert, also deserve to sit behind bars–right next to Larry.
Geddert recently transferred management of the Twistars gym to his wife and plans to retire this year at the age of 60.
[image via screengrab/Fox 47 News]
Follow Colin Kalmbacher on Twitter: @colinkalmbacher
Have a tip we should know? [email protected]