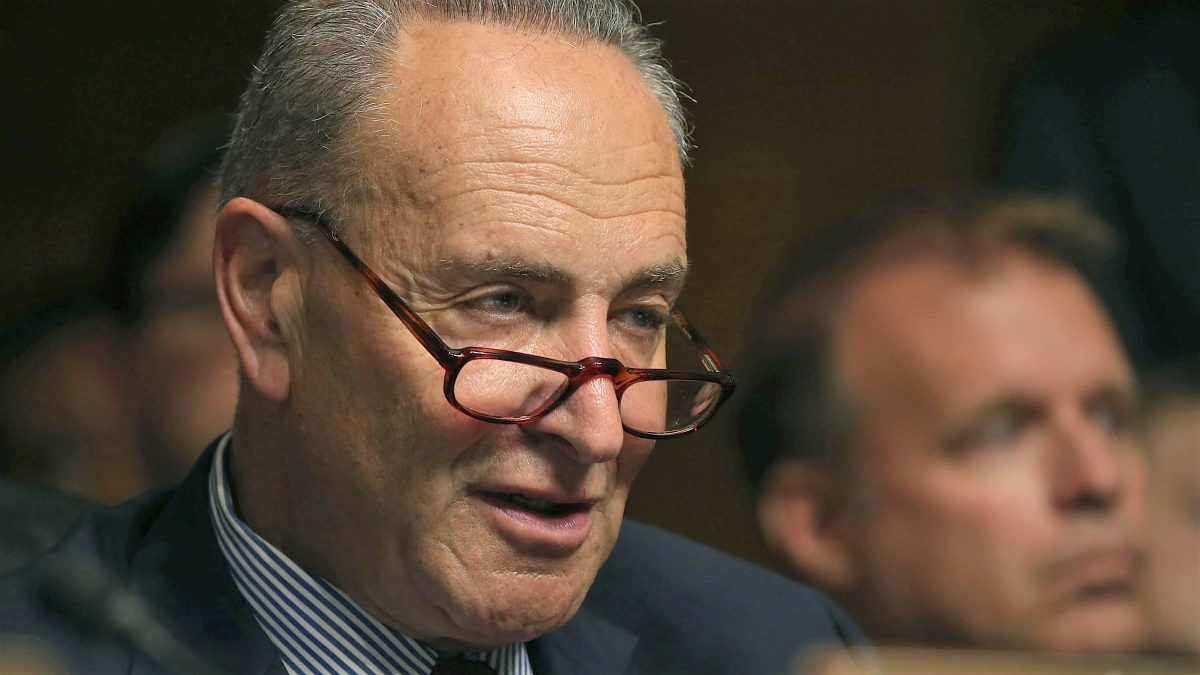 Senate Democrats think they're close to preventing judicial nominee Thomas Farr from being confirmed to a seat as a U.S. District Court judge in the Eastern District of North Carolina. President Trump nominated him to that seat way back on July 13, 2017 and again in January 2018. Two White House press releases extolled Farr's credentials in labor and constitutional law (here and here). In the second of those releases, announcing the "renomination" of Farr and other candidates, the White House said President Trump "looks forward to the swift confirmation of these nominees."
Of course, that hasn't happened, and a lot of other things have happened in the mean time. Perhaps worrisome for the White House is a Black Friday Tweet by Sen. Charles Schumer, (D) New York, who said that "[a]ll 49 Senate Democrats are now opposed to the Thomas Farr nomination. With Senator Flake opposed, we need one more Republican to defeat this nominee."
BREAKING: All 49 Senate Democrats are now opposed to the Thomas Farr nomination. With Senator Flake opposed, we need one more Republican to defeat this nominee.

RT to urge Republicans to vote NO to defeat this anti-voting rights nominee. https://t.co/88CaPwUFt0

— Chuck Schumer (@SenSchumer) November 23, 2018
A few days earlier, Schumer Tweeted his disdain for Farr, referring to him indirect as "a man who aided the most strident attempt by NC Republicans to keep minorities from voting":
The @SenateGOP blocked 2 women nominated by Obama for this judgeship. Either would have been 1st Af-Am federal judge to serve in this district.

Now they want to confirm a man who aided the most strident attempts by NC Republicans to keep minorities from voting? Unreal. #StopFarr pic.twitter.com/FZxx4HfvIK

— Chuck Schumer (@SenSchumer) November 21, 2018
Those comments came on the heels of a November 19th Tweet storm by Schumer attacking Farr's role in redrawing the lines of North Carolina's state legislative districts. The underlying case Schumer referenced is North Carolina v. Covington. In that case, a group of North Carolina voters sued on claims that the lines were drawn mostly based on race and in violation of the Voting Rights Act of 1965. Farr and others working with him were the ones who drew some of the boundaries which the U.S. Supreme Court eventually agreed should be struck down. Farr also played a role in North Carolina's Voter I.D. law, which critics say disenfranchises minority voters. The Miami Herald recently outlined other racially questionable moves which involved Farr dating back nearly three decades.
Sen. Sheldon Whitehouse, (D) Rhode Island, referred to Farr as "the worst of the litter" in comparison to other Trump judicial nominees.
Civil rights leaders oppose Farr's nomination, but Senate Republicans have still been pushing — despite a lengthy delay — to elevate Farr to the bench.
[Photo by Mark Wilson/Getty Images.]
Have a tip we should know? [email protected]
Aaron Keller - Deputy Editor-in-Chief