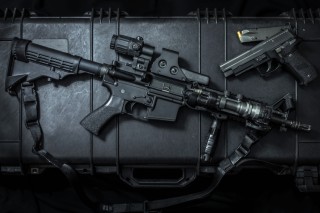 After a hospital stay was mistakenly reported to law enforcement databases as an involuntary mental health committal, an upstate New York woman is suing to right the wrongs that had her flagged as unfit to own a gun. According to a report from the Albany Times-Union, Donna McKay was hospitalized overnight last year stemming from a bad reaction to cough syrup. After the stay was erroneously reported as her being involuntarily committed, state police impounded her guns. While she eventually got them back, McKay is still flagged in the federal database, and she has filed a lawsuit, alleging that she should have had a lawyer at her licensing hearing.
"No one facing federal and state disqualification from the ownership, use, and possession of firearms should represent themselves at a license hearing," McKay's lawyer, Paloma Capanna, said in a statement. The lawsuit requests an injunction requiring New York State to provide legal representation in these cases as well as official notification to anyone who is up for a potential confiscation.
Capanna is the attorney of record in several lawsuits fighting portions of the SAFE Act, the gun legislation at issue. Best known for its assault weapon ban in the wake of the Sandy Hook shooting four years ago, the SAFE Act also includes provisions for mental health professionals to report gun owners who they believe pose a risk to themselves or others. In addition, those who already owned guns banned by the SAFE Act were allowed to keep them if they registered the weapons. Last year, Capanna won a case against the state to get the statistics on registrations released, showing that 23,847 people applied with 44,485 guns being registered as of that report.
[Photo: Shutterstock]
Have a tip we should know? [email protected]