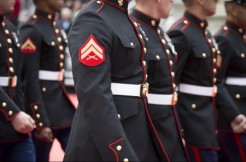 The Department of Veterans Affairs have announced a proposed rule change that'd lift a ban on sex reassignment surgery. This possible reform comes after two transgender veterans petitioned in May.
"I served my country with pride, and I should be treated just like my fellow veterans who have access to the treatment they need," said transgender woman and former Marine Dee Fulcher in a report from The Hill.
The idea is that sex assignment surgery would help treat gender dysphoria. According to the American Psychiatric Association's DSM-V, this problem occurs when there is "a marked difference between the individual's expressed/experienced gender and the gender others would assign him or her, and it must continue for at least six months."
The new proposal states there's enough evidence to show surgical techniques are a necessary treatment for gender dysphoria. "Additionally, recent medical research shows that gender dysphoria is a serious condition that has had severe medical consequences for certain patients if transition-related surgeries and procedures are not provided."
Surgeries would be made on a case-by-case basis.
"V.A. currently provides the whole universe of care for transgender veterans, except for transition-related surgeries," a V.A. spokesman told TIME. "However, the rule will remove any barriers to transition-related care (including surgeries) as deemed medically necessary by the Veteran's treatment team."
The approval process is expected to take a long as 22 months. First, the Office of Management and Budget will review it. Then the V.A. will review it, taking public comments into consideration.
–
Follow Alberto Luperon on Twitter (@Alberto Luperon)
Have a tip we should know? [email protected]