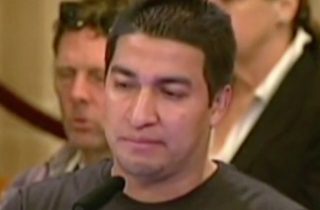 The city of San Francisco could pay up after a local cop told federal authorities about an undocumented immigrant. Pedro Figueroa-Zarceno may win $190,000 in a likely lawsuit settlement first reported Wednesday. City attorneys said this is likely to be approved in a hearing scheduled for July.
This stems from a Dec. 2, 2015 visit to a police station. According to his complaint, Figueroa-Zarceno, originally from El Salvador, just wanted to get back his stolen car, but there was a 10-year-old civil deportation order against him. Officers detained him, and handed him off to an agent for Immigration and Customs Enforcement (ICE).
The problem is, local officials aren't allowed to help federal authorities in immigration matters. San Francisco has been a sanctuary city since 1989. In 2013, the city enacted the "Due Process for All Ordinance," meaning people can't be held in custody by local cops just because of a civil immigration detainer. The reasoning is that otherwise, immigrants will be discouraged from reporting crimes to authorities.
Figueroa-Zarceno spent two months in detention. Meanwhile, his car was auctioned off. He sued San Fran in January, arguing they violated their own policies.
This lawsuit against the city may soon end, however. His complaint was formally shown to the Board of Supervisors on Tuesday, and they are expected to do a full vote on the settlement in July.
His immigration situation remains ongoing. Figeroa-Zarceno's attorney Zachary Nightingale told KPIX5 a hearing has been scheduled for 2019. A judge reopened the case after discovering that initial order lacked proper notification.
[Screengrab via CBS]
Have a tip we should know? [email protected]