Podcast: Play in new window | Download
Subscribe: RSS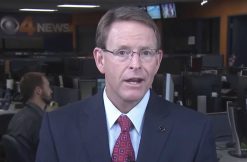 On Wednesday, the president of the Family Research Council said that that the U.S. armed forces should just go defunct rather than allow transgender service members.
"So we see the administration pushing forward without congressional input on integrating transgenders [sic] into our nation's military," Tony Perkins said on his Washington Watch radio show. "What else can this administration do to the military other than just disband it?"
He's reacting to a new Pentagon handbook that gives advice to all military service members on how best to incorporate and welcome transgender people who join.
"Our mission is to defend this country, and we don't want barriers unrelated to a person's qualification to serve preventing us from recruiting or retaining the Soldier, Sailor, Airman, or Marine who can best accomplish the mission," Defense Secretary Ash Carter said in June, when he lifted the ban on transgender service members. "We have to have access to 100 percent of America's population for our all-volunteer force to be able to recruit from among them the most highly qualified—and to retain them."
But Perkins claims this will cause damage.
"I probably need to take it back when I said that the only thing worse the president could do would be to disband the military," he said. "Actually, that might even be better. We're probably better off without a military that is not compromised because we think we have a military that's defending our country and able to do that, but we have a military that in many ways is a hollowed-out shell."
Perkins served as a Republican in the Louisiana House of Representatives from 1996 to 2004. He's currently the president of the Family Research Council, a conservative Christian lobbying group founded by evangelical figure James Dobson.
The United States Armed Forces is comprised of the Air Force, Army, Coast Guard, Marine Corps, and Navy. For the 2017 fiscal year, they were planning for a capacity of 1,281,900 total active-duty members, and 801,200 reservists, according to a Department of Defense report from February.
You can read the DoD's handbook on transgender service members below:
Implementation Handbook – Department of Defense by LawNewz on Scribd
[h/t Right Wing Watch]
[Screengrab of Perkins via CBSN]
–
Follow Alberto Luperon on Twitter (@Alberto Luperon)
Have a tip we should know? [email protected]