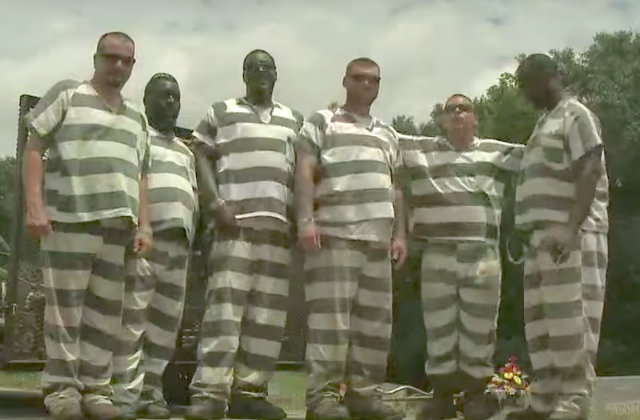 The sheriff in Polk County, Georgia wants to reward the inmates who saved a deputy who fainted. They'll be getting shortened sentences.
"Anytime we have a trustee or inmate crew that goes beyond normal duties, we cut them some extra time off," Sheriff Johnny Moats told WXIA in a Wednesday report.
Their sentences will be reduced by about one-fourth, he said.
Moats actually doesn't need to ask a judge for the reduced sentences. LawNewz.com reached out to the Polk County Sheriff's Office, and a spokeswoman said he is empowered under § 42-4-7 of the Georgia code to do it himself. Here's the law:
The sheriff … may award earned time allowances to such inmates based on institutional behavior. Earned time allowances shall not be awarded which exceed one-half of the period of confinement imposed, except that the sheriff or other custodian may authorize the award of not more than four days' credit for each day on which an inmate does work on an authorized work detail;
Six inmates doing work detail at a local cemetery on June 12 saved a deputy who fainted. The sheriff's office said the men rushed to save him, calling 911 on his work phone, and removing his outer carrier vest to help cool him down. The weather that day was a reported 76 degree and 100% humidity.
The deputy, who told WXIA he didn't want to be identified, said he suffered from a brain condition called Chiari malformation, and blamed his fainting on the high humidity. He said he started coughing, getting hotter each time until he fell down, and hyperventilated. The deputy applauded the inmates.
"That moment when they're out, they're not really inmates to you," he said. "They're just a group of guys and you're out. You try to be more like friends and in my case, it just worked out for the better."
[Screengrab via WXIA]
Have a tip we should know? [email protected]