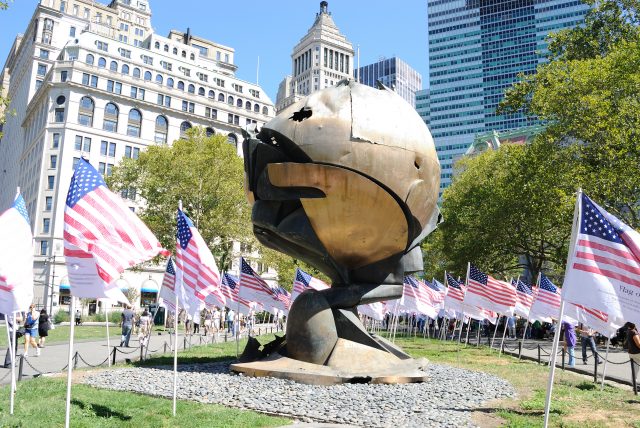 New York Congressional Representative Joseph Crowley is proposing a bill that would give undocumented volunteers who assisted in the cleanup in the aftermath of 9/11 green cards.
Stories like Carlos Humberto Cardonas' have inspired the push for the bill.  Cardonas, now 48, helped to clear rubble from Ground Zero after 9/11 and has since suffered respiratory and gastrointestinal issues from inhaling the site's fumes, according to Cardonas' wife. Cardonas, originally from Colombia, entered the United States when he was 17.  Due to a 1990 attempted drug sale conviction, Cardonas was detained by ICE officials for four months, at risk of deportation.
Since then, New York Governor Andrew Cuomo gave him a pardon for the conviction, and while Cardonas has been released from ICE custody, his case remains pending.
"They went to work at a long, hazardous and sad job of cleaning up the destruction of a terrorist attack on that day. There is no doubt in my mind that what they did was beyond patriotic; it was heroic," Crowley stated in a press conference outside New York City's City Hall of the volunteers.  The proposed legislation is slated to be introduced in the House this week.  "They served our country when we needed a hand, and now we're only showing them, unfortunately, the back of ours. Instead of gratitude, they're being shown the door," he added.
The bill would give approximately 1,000 to 2,000 undocumented workers legal status who volunteered in Ground Zero recovery efforts after 9/11, and eventually allow them to qualify for citizenship.  Of course, the bill would need to make its way past a Republican-led Congress to be realized.
"It was something that I had to do for this great nation…It was a duty to me to be there," Cardonas said of his cleanup efforts according to the New York Daily News.  "If it would happen again, truly, they could count on me. I would be there…It's not fair what they're doing to us."
[Image via Shutterstock]
Have a tip we should know? [email protected]