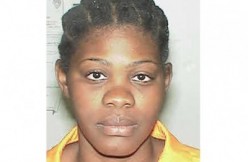 On a Saturday in July, 2012, Lisette Bamenga killed her two children: 4-month old daughter Lillian Noel, and 5-year-old son Trevor Noel Jr. She doesn't dispute this. In fact, she openly admitted to it in a New York City court on Tuesday, when a judge sentenced her to eight years in prison.
Why the short sentence? Judge Martin Marcus believed her attorney, who argued she'd suffered from undiagnosed postpartum psychosis, according to a report by CBS. When handing down the sentence, Marcus said he'd read 18 letters from psychiatrists, 32 from people who knew Bamenga, and nine from jail staffers who said she was a good prisoner.
Postpartum depression—a pretty common mood disorder that affects women who've recently given birth—can escalate to psychosis, according to The Royal College of Psychiatrists. Symptoms include delusions, hallucinations, and severe mood changes.
Bamenga was facing up to 50 years behind bars for giving her children poisoned grape juice, and drowning them in a bathtub, according to Bronx News 12. After that, she attempted suicide.
Prosecutors didn't buy the mental illness explanation. They said she killed the children to get back at their father, Trevor Noel, after he allegedly had a kid with another woman, CBS reports.
"The entire Noel family will never be the same," Assistant District Attorney Nancy Borko said in court.
Noel didn't show up to court on Tuesday, but his aunt Susan Boose did. She left the courtroom after the judge handed down the sentence.
"I feel like there really is no justice in this situation," she said, according to CBS. "Lisette played judge and jury in the lives of her children."
But Bamenga's attorney, Michael Dowd, has a different take. "This is, in my view, was an extremely fair sentence," he said, according to Bronx News 12.
In court, Bamenga promised she'd use her experience to educate people on the dangers of postpartum psychosis. "I never in my right mind would have hurt anyone," she said, according to News 12.
Bamenga used to be school teacher in Brooklyn. Parents of former teachers had raised about $20,000 for her legal defense, CBS reports.
–
Follow Alberto Luperon on Twitter (@Alberto Luperon)
Have a tip we should know? [email protected]