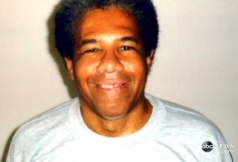 Albert Woodfox has been in solitary confinement longer than any other American prisoner, but was released today after over four decades in prison. He, along with Robert King Wilkerson and Herman Wallace, made up the "Angola 3," a politically active trio of inmates in solitary confinement at Louisiana State Penitentiary named after the prison's nickname. All three were known to have had ties to the Black Panther Party. Woodfox, originally serving a sentence for armed robbery from 1971, was convicted of murdering prison guard Brent Miller in 1972. According to The New York Times, the decision to put him in solitary confinement was not related to the murder, however Angola warden Burl Cain insisted that Woodfox was dangerous and should be kept in isolation.
Woodfox was convicted twice of murdering Miller, with both decisions being overturned due to inadequate legal representation and racial discrimination during grand jury selection. Woodfox was indicted again, and was facing a third trial when he reached a plea deal. His attorneys had previously argued that since none of the main witnesses were still alive, Woodfox could not get a fair trial. A federal judge agreed and ordered Woodfox's release in June 2015, but a Fifth Circuit appellate judge overturned the decision.
Eventually, Woodfox entered a plea of no contest to the lesser charges of manslaughter and aggravated burglary. His attorney, George Kendall,  made it clear that the plea was not an admission of guilt. Having already been in prison for roughly 45 years (and almost 44 in solitary confinement), the judge released him on time served.
The other members of the Angola 3 had already been released. Wilkerson gained his freedom in 2001 after his conviction was overturned, and Wallace suffered from liver cancer, which led to his release in 2013.
[h/t The New York Times, Screengrab via ABC News]
Have a tip we should know? [email protected]