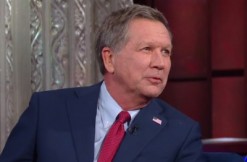 In February, Ohio Gov. John Kasich signed a law that would've cut funding for Planned Parenthood, but a federal judge ruled against him on Friday. Judge Michael R. Barrett of the Southern District of Ohio said that § 3701.034 will no longer be enforced because it violated the organization's First Amendment and 14th Amendment Due Process rights.
In a statement, Planned Parenthood held this was a big win for STD screenings, and infant-mortality prevention.
"Today's ruling supports the rights of all Ohioans to access needed health care," said Iris E. Harvey, president and CEO of their Greater Ohio branch. "This law would have been especially burdensome to communities of color and people with low income who already often have the least access to care – this law would have made a bad situation worse. Politicians have no business blocking patients from the care they need – and today the court stopped them in their tracks."
Back at a February campaign rally, Kasich was incredulous at the suggestion the law was a bad idea, and claimed Planned Parenthood was a "discredited" organization.
"Are you kidding me?" he said. "We have robust women's health funding in Ohio."
We've reached out to the main defendant, Ohio Department of Health Director Richard Hodges, for comment, and will update if we get a response. You can read full opinion here.
[Screengrab via CBS]
Update – August 16, 2:10 p.m.: Melanie Amato, a public information officer for The Ohio Department of Health, confirmed to LawNewz.com that they plan to appeal the decision to the U.S. Court of Appeals for the Sixth Circuit.
–
Follow Alberto Luperon on Twitter (@Alberto Luperon)
Have a tip we should know? [email protected]