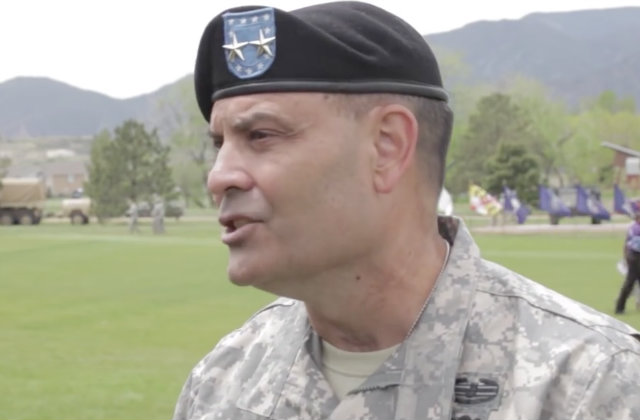 The U.S. Army yanked Maj. Gen. Ryan Gonsalves' nomination to a third star because it determined that he called a female congressional staffer "sweetheart," according to Stars and Stripes. This violated the Army Command Policy's rule on "dignity and respect."
An anonymous complaint was filed to the Army Inspector General on July 20. The exchange reportedly happened at a October 2016 meeting at Fort Carson, Colorado. According to the IG's findings, Gonsalves picked on the staffer, who worked for Rep. Jim Langevin (D-Rhode Island 2nd district). He allegedly asked her about her age, and told her to take notes  "since she was a Democrat and did not believe in funding the military," said the IG report.
Army investigators detailed criticism from other congressional staffers at the meeting: one person reportedly called it  "sarcastic and unprofessional," while a male staffer said it was  "sexist, inappropriate and unprofessional." Others present defended Gonsalves, saying he was being professional at the meeting.
Names of the female staffer and about 10 other people at the meeting were redacted.
Gonsalves reportedly denied calling her "sweetheart," but all in all, the IG reached a conclusion against him based on the preponderance of the evidence. The Army accordingly withdrew his nomination Nov. 27.
A spokesperson declined to elaborate further when Star and Stripes reached out in a Jan. 3 report.
"The matter is now closed," Army spokeswoman April Cunningham said in a statement.
This decision put a dent in Gonsalves' career. The complaint was filed after his nomination was announced, and he was reportedly a candidate for heading the U.S. Army Europe.
[Gonsalves in 2015 via The Colorado Springs Gazette]
Have a tip we should know? [email protected]