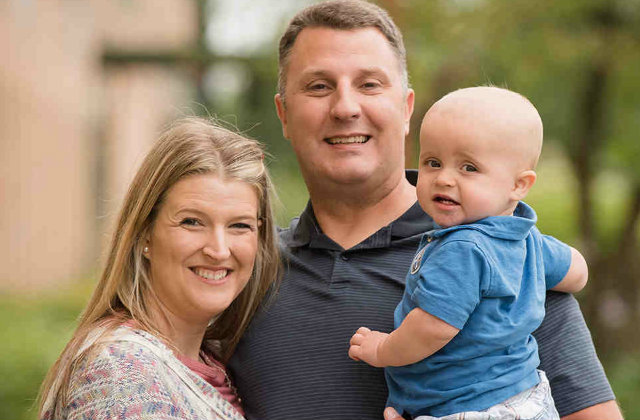 A new lawsuit says a cop was forced to take unpaid leave during her pregnancy. Officer Jennifer Panattoni is being represented by the American Civil Liberties Union in her complaint against the Village of Frankfort, filed Monday in the U.S. District for the North District of Illinois, Eastern Division.
"I have always wanted to be a police officer since I was a young girl," said Panattoni in an ACLU press release. "When I wake up and put on my uniform, I feel so honored to serve, but I have been punished for choosing to be a mom. I'm fighting back so that no other woman is put in this situation."
This 14-year veteran of the force tried to keep working for the Frankfort Police Department when she got pregnant in late 2015, says her lawsuit. But reasonable accommodations were not forthcoming. She says the defendant defused to give her a uniform that fit her changing body, refused to give her properly fitted protective gear while she continued to patrol, and refused to let her carry some equipment in her pockets and vest although her 25-lb. duty belt put stress on her abdomen.
She claims she got treated differently from non-pregnant officers. They could take personal breaks while on-duty without having to use benefit time–She was forced to use her benefit time. On top of that, she requested modified duty as her pregnancy continued, but claims she was told that only officers with on-the-job injuries qualified. According to the lawsuit, Police Chief John Burica told her he didn't want to "set a precedent" by letting a pregnant officer do "light duty."
Her problems culminated when she was forced to unpaid leave. Her accrued paid benefit time ran out in a month, and she had to use up part of her pension during the rest of her pregnant and post-birth recovery.
"In retaliation for Officer Panattoni asserting her rights under federal and Illinois law, Defendant singled her out for disparate treatment, ranging from threats of unwarranted discipline to denials of the equipment she needed to do her job," the complaint says.
You can read the lawsuit here. Her husband also works for the FPD as a sergeant.
The village is going to fight these allegations. In a statement to Law Newz, they said they're dedicated to accommodating employees, enforcing equal employment opportunity policies, and prohibiting retaliation.
"While the Village does not comment on the substance and details of pending lawsuits and claims, what we can say is that the Village of Frankfort believes it has complied with state and federal law as well as the terms of the collective bargaining agreement," they said. "The EEOC previously dismissed Officer Panattoni's charge of discrimination and retaliation finding that it was unable to conclude that the information obtained during its investigation established violations of any employment statute. "
The ACLU has gotten involved in cases like this before. They filed an amicus brief on behalf of ex-cop Stephanie Hicks, who said she was chased off the Tuscaloosa Police Department in Alabama after she returned from maternity leave. A federal appeals court recently upheld her court victory.
[Image of Panattoni and her family by Carol DeAnda of Bella Baby Photography]
Have a tip we should know? [email protected]