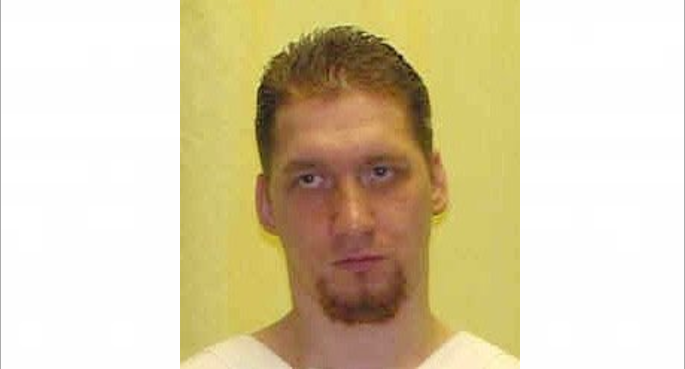 LUCASVILLE, Ohio (AP) — A child killer was put to death with no apparent complications Wednesday in Ohio's first execution since a problem-plagued one 3½ years ago triggered an uproar over the reliability of the lethal injection drugs used by the state.
Ronald Phillips, 43, was condemned to die for the 1993 rape and slaying of his girlfriend's 3-year-old daughter, Sheila Marie Evans.
As he lay on the execution table, he apologized to the child's aunt and half-sister, who were there to watch him die for his crimes.
"I know that Sheila Marie didn't deserve what I did to her," he said.
Donna Hudson, the victim's aunt, said: "God forgave him, but, I'm sorry, I don't think I can."
Phillips' case could open the way for the full resumption of capital punishment in Ohio, which has 26 executions scheduled through 2020, the next on Sept. 13.
"I have confidence that we are going to continue to do this in a dignified, peaceful, humane way, and I'm committed to do that," Ohio Prisons Director Gary Mohr said just before Phillips' execution.
It was Ohio's first execution since 2014, when an inmate gasped and snorted repeatedly during a procedure that took an unusually long 26 minutes and involved a never-before-tried drug combination.
Gov. John Kasich reacted by putting all executions on hold. The delays continued when the state had trouble finding new supplies of drugs and death row inmates sued over Ohio's proposed new three-drug combination, saying it would amount to cruel and unusual punishment.
The drugs include midazolam, a sedative used in some problematic executions in Ohio, Arkansas and Arizona. The inmates were backed up by 15 pharmacology professors who said midazolam is incapable of inducing unconsciousness or preventing serious pain.
Phillips lost his final appeal when the U.S. Supreme Court on Tuesday denied his requests for more time to pursue the challenge to the drug combination or his claim that he deserved mercy because he was only 19 at the time of the crime.
He died about 10 minutes after giving his final statement, prison officials said. He showed no signs of distress. His chin dropped and his belly heaved slightly as the lethal drugs were administered.
Allen Bohnert, a public defender who has worked on the case, contended Phillips' execution was not problem-free, it just looked that way. He said the executioners accelerated administration of a paralytic to mask Phillips' pain.
"Hiding the physical evidence does not change the reality that Ohio used a painful and unnecessary method of execution to kill Ron Phillips today," Bohnert said.
It was the nation's 15th execution of the year.
Phillips staved off lethal injection three other times, including in 2013, when he made a last-minute request to donate a kidney to his mother and possibly his heart to his sister. The request was ultimately denied. His mother has since died.
This article was written by Julie Carr Smyth of the Associated Press.
[Image via Ohio Department of Rehabilitation and Correction]
Have a tip we should know? [email protected]