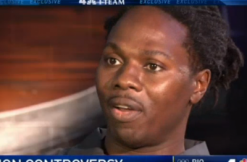 A judge has overturned the conviction of 46-year-old Wayne Martin, who was given a life sentence for a 2005 double murder in Brooklyn, New York.
"I wasn't there," he told NBC New York in a Tuesday report. "I have nothing to do with this crime. You [the prosecution] just tailored something to fit me."
The office of Brooklyn District Attorney Ken Thompson recently sent a letter to Kings County Judge Matthew D'Emic. In the statement, obtained by NBC News, the office said there was prosecutorial misconduct: Exculpatory evidence had been withheld from Martin's original trial. For example, an alleged witness of the double murder said he saw the actual killer on TV: Allan Cameron was arrested in 2005 for killing an NYPD officer. His case well pretty well publicized.
Martin's case has been remanded for at least two weeks, though he still remains locked up.
"I haven't slept in about a week," Martin told NBC News about his feelings when he heard about the DA's letter. This was in the Tuesday report, before judge issued the ruling that overturned his conviction.
Marc Fliedner, the trial prosecutor who sent Martin away, told NBC News that the DA's letter, which blamed him for Martin's conviction, was politically charged. He left the DA's office in June, reportedly because he didn't get along with Thompson.
"I turned over every single document I had," he said.
The DA's office said the letter wasn't politically motivated, and said they reviewed Martin's case because of a defense motion.
–
Follow Alberto Luperon on Twitter (@Alberto Luperon)
Have a tip we should know? [email protected]