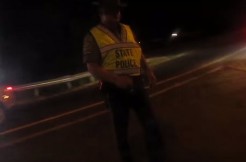 On Thursday, ACLU of Connecticut sued three state troopers for allegedly making up charges against their client, protester Michael Picard. Their evidence: The cops took his cell phone, and accidentally recorded themselves.
According to the complaint, Picard regularly protests DUI checkpoints, believing these violate the Fourth Amendment. This included one September 11, 2015 demonstration on an Interstate 84 slip road in West Hartford. The defendants—Master Sergeant Patrick Torneo, Sergeant John Jacobi, and Trooper John Barone—busted him during the DUI check point.
From the lawsuit, in the United States District Court for the District of Connecticut.
The tickets charged Mr. Picard with violating Conn. Gen. Stat. § 53-182 (use of a highway by a pedestrian) for standing on the gore, and with violating Conn. Gen. Stat. § 53a-181a (creating a public disturbance) for carrying an "exposed loaded side arm in plain view of passing motorists" and because some motorists "complained [that Picard] was holding a weapon in his hand."
But then there's the video.

Barone took Picard's phone and reportedly told him, "It's illegal to take my picture." He is also accused of improperly taking plaintiff's holstered pistol (FYI, Connecticut is an open carry state). Thing is, Picard set the cell phone to record, and it kept doing that as police brought it to their vehicle.
From the lawsuit:
At Torneo's cruiser, the defendants checked Mr. Picard's pistol permit and confirmed what they already knew: it was valid. Nonetheless, Torneo instructed one of the defendants to "have that Hartford lieutenant call me," so that Torneo could check if Mr. Picard "has any grudges." A "grudge" is police slang for a personal bias held by a police officer against a person because of a dispute or past display of disrespect towards the police. The defendants' inquiry did not uncover any "grudges" against Mr. Picard. Nonetheless, Barone asked the other defendants, "do you want me to punch a number on this one? We gotta cover our ass."
The defendants' alleged actions violated Picard's First Amendment and Fourth Amendment rights.
"Taking photographs and videos of things that are plainly visible from public spaces is your constitutional right," said a previous notice from the ACLU of Pennsylvania. "That includes federal buildings, transportation facilities, and police and other government officials carrying out their duties."
A spokesperson for the Connecticut State Police, which is not a defendant in this case, declined to issue a statement.
Update – September 20, 12:09 p.m.: We've touched base with the Connecticut State Police, and have changed the article to reflect this.
–
Follow Alberto Luperon on Twitter (@Alberto Luperon)
Have a tip we should know? [email protected]