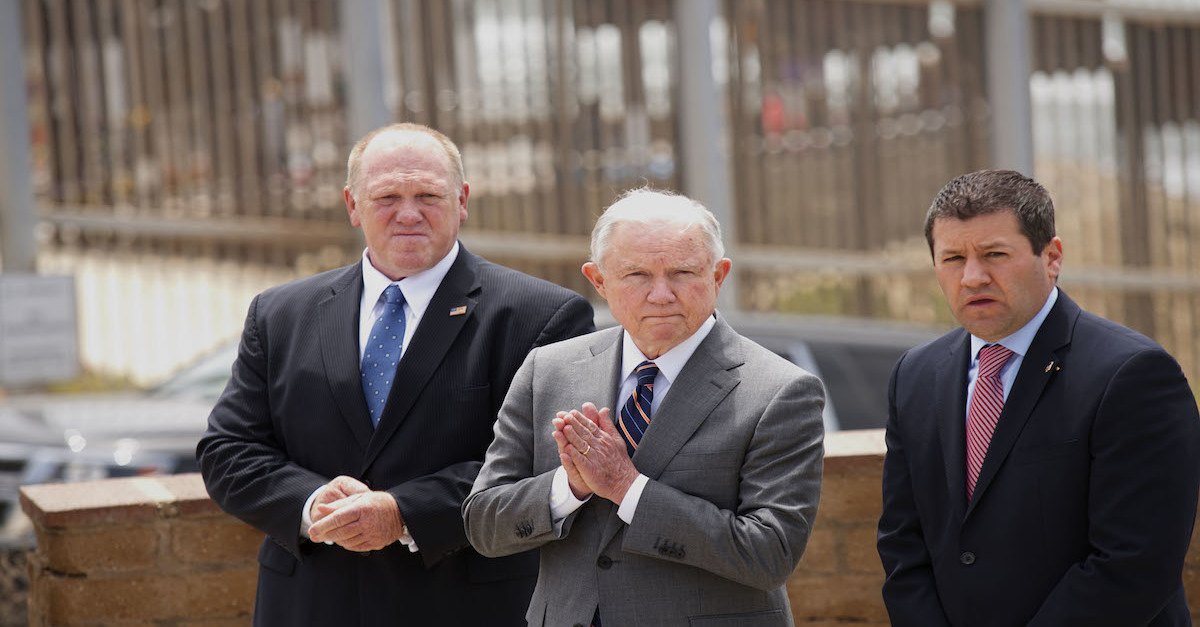 With little fanfare or attention, the Trump administration recently inked a seemingly hush-hush deal to keep immigrant mothers and children locked away in a massive detention center–to the tune of roughly $13 million dollars per month.
According to the Associated Press, Immigration and Customs Enforcement (ICE) officials quietly signed a contract in September with the tiny City of Dilley, Texas (population: 3,894). That same report also claims that Dilley city officials simultaneously and surreptitiously signed another agreement with private prison company CoreCivic, which operates the 2,400-bed immigrant detention center.
CoreCivic pushed back a bit against this categorization of the deal.
According to an email received after this article was published, the deal accommodates a preexisting agreement between ICE and the private prison company. In their email, however, CoreCivic did not acknowledge or reference the reported contract between itself and the City of Dilley.
None of the parties involved announced the September agreement and information about the deal was only obtained after the Associated Press submitted an open records request.
Law&Crime also reached out to Dilley Mayor Mary Ann Obregon as to why the highly lucrative agreement was never publicly announced, but no response was forthcoming at the time of publication.
Obregon's silence on this point has led to accusations that the parties involved are specifically trying to keep the arrangement out of the public eye due to increasingly negative public perceptions about ICE and the Trump administration's ongoing campaign against certain classes of immigrants. Notably, however, Mayor Obregon reportedly penned an effusive letter praising CoreCivic just last year.
The lucrative arrangement will keep the South Texas Family Residential Center open for at least another fiscal year and funnels most of those taxpayer dollars to CoreCivic–which has been operating the facility since it opened during the Barack Obama administration in 2014. The City of Dilley will walk away with roughly $483,000 in administrative fees, according to the AP report.
The South Texas Family Residential Center is the largest detention facility of its kind in the United States and functions as a critical aspect of the Trump administration's renewed efforts to administratively detain said immigrants in the name of deterrence.
Immigrants' rights advocates say the city's oversight of the controversial facility is little more than a mere technicality–noting that the new agreement keeps intact a feature which allows ICE and CoreCivic to detain and punish immigrants with little public scrutiny or input.
Danielle Jefferis is a clinical fellow and the supervising attorney at the University of Denver Sturm College of Law Civil Rights Clinic. She researches, writes and represents individuals who are currently subject to immigration detention. In comments to Law&Crime, she highlighted the role that private prison companies have played in the Trump administration's approach to immigration.
"This deal is just another stark example of how the private prison industry is booming as a result of the Trump administration's immigration policy," she said. "Companies like CoreCivic, Geo Group and the Management & Training Corporation are profiting off the caging of men, women and children across the country and that's one of the elements that's been missing from the narrative we've been hearing since this summer about family separations."
Jefferis also pointed out that basic concerns of justice and due process are implicated when municipal governments transfer their authority over to largely unaccountable third-parties.
"There is a serious problem of a lack of accountability for these companies," she said. "The closed-door meeting between ICE and Dilley–which led to the agreement between the three parties–is just one example of this. There are also serious problems holding these companies accountable in court."
"These private prison companies are working for the government to carry out an inherently governmental function–incarcerating people–but there are significant barriers in the way of people who try to hold them accountable in a court for abuses that happen in the process, such as the [detention center] in Dilley," Jefferis noted. "With few effective mechanisms under the law to bring these companies to task for the harms they inflict on people, the more the companies will profit off of the backs of the people our government is paying them to confine."
Bob Libal is the executive director of Grassroots Leadership. In comments to the AP, he said that ICE probably wanted to avoid attention due to negative press regarding previous detention contracts.
"It's an agency that tends to play by its own rules," Libal said.
While CoreCivic initially did not respond to Law&Crime's inquiries, ICE–unprompted–attempted to respond on the private prison company's behalf.
In an email containing Law&Crime's original email to CoreCivic, ICE official Adelina Pruneda released a statement noting that the Dilley contract was in response to a recent Inspector General audit which highlighted "concerns" about a similar detention center in Arizona.
When asked why ICE was responding on behalf of a private prison company, Pruneda wrote, "We are responding."
[image via Sandy Huffaker/Getty Images]
Follow Colin Kalmbacher on Twitter: @colinkalmbacher
Editor's note: this article has been amended to include a response from CoreCivic and for clarity.
Have a tip we should know? [email protected]