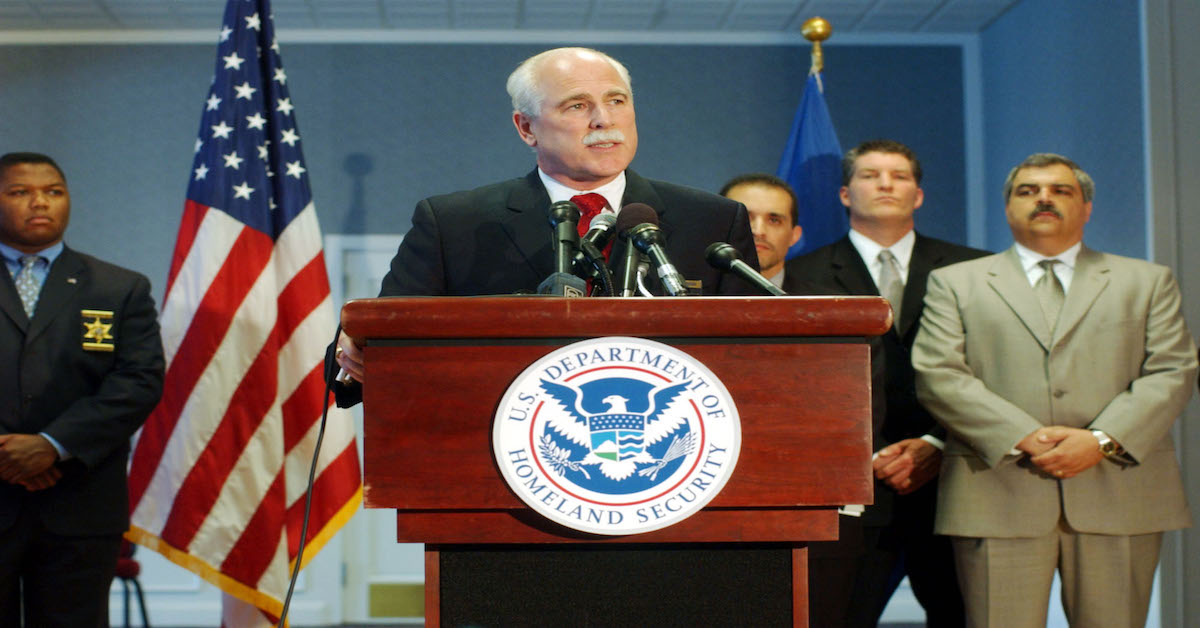 A civil rights lawsuit filed in Boston accuses Bristol County Sheriff Thomas Hodgson of violating federal law for allegedly detaining an immigrant solely on the basis of his immigration status.
Filed on Tuesday by attorneys with the Lawyers' Committee for Civil Rights and Economic Justice on behalf of 38-year-old Moises Riva, an El Salvadoran national who has been living in New Bedford, Massachusetts for the past several years.
Oren Nimni, Civil Rights Fellow at the Lawyers' Committee, said in a statement:
Mr. Rivas was stripped of his liberty and kept in jail because he is an immigrant. That offends fundamental constitutional protections under both federal and state law.
According to a press release obtained by WBUR, Rivas was serving time at the Bristol County Jail for a "minor non-violent charge" when his family attempted to post $1,000 bail. The Rivas family was apparently denied and told instead that Moises could not be released on bail because of his immigration status. Jailers also apparently told the Rivas family that Moises would remain detained there on the basis of a request issued by Immigration and Customs Enforcement.
In Massachusetts, such a form of detention is expressly illegal. In June 2017, the Massachusetts Supreme Court ruled that state officials do not have the power to detain individuals on the basis of civil immigration infractions alone. The lawsuit alleges that Rivas' imprisonment–which ran from August 18 to September 5, 2017–was therefore a direct violation of Massachusetts law.
That ruling, stylized as Lunn v. Commonwealth, notes, "Massachusetts law provides no authority for Massachusetts court officers to arrest and hold an individual solely on the basis of a Federal civil immigration detainer, beyond the time that the individual would otherwise be entitled to be released from State custody."
According to the 24-page lawsuit:
On various occasions, Defendants attempted to justify Mr. Rivas's unlawful detention based solely on a Form I-247 Detainer (commonly referred to as an "ICE Detainer" or "immigration detainer") issued by Immigration and Customs Enforcement (ICE) and several patently inapplicable federal administrative forms. However, none of these forms was legally sufficient to justify detention.
The lawsuit continues, noting, "Defendants knowingly and willfully refused to recognize Mr. Rivas's federal and state rights or to abide by Lunn, and they prevented Mr. Rivas's release on bail based on an ICE Detainer and several patently inapplicable federal administrative documents."
In response, Sheriff Hodgson released the following statement on Tuesday afternoon. He said, "The allegations made by the Lawyers' Committee for Civil Rights and Economic Justice in a complaint filed against myself and others from Bristol County are completely false, unethical and a clear attempt by a an illegal immigration advocacy group to make a political statement."
Additionally, the lawsuit accuses Hodgson of prejudice against Latin American immigrants. The lawsuit alleges:
Defendants' disregard for Mr. Rivas's constitutional right to be released upon posting his bail comported with public statements made by [Defendant Hodgson]—as the sheriff of Bristol County—indicating animus towards immigrant communities. For example, Defendant Hodgson publicly offered to send inmates in his custody 3 to build a wall along the Mexican border and stated that the immigrant population was to be blamed for the increase in crime rates.
In response to those specific charges, Hodgson said, "This lawsuit is yet another attempt to paint those committed to obeying the law and keeping the community safe with the brush of bigotry. Its purpose is propaganda intended only to try and convince an already frightened community that a commitment to observance of the law and safety in the cities is driven by racial animus."
[image via Darren McCollester/Getty Images]
Follow Colin Kalmbacher on Twitter: @colinkalmbacher
Have a tip we should know? [email protected]